Reliable Oversize Equipment Transport in Tijuana
We present top-notch oversize equipment shipping services in Tijuana to clients looking to make the most out of their businesses. Our company specializes in providing premium oversized load transport solutions to meet all your heavy hauling needs. Whether you need to transport large machinery, construction equipment, or industrial components, our expert team and specialized fleet ensure the safe and efficient delivery of your valuable cargo. We are dedicated to excellence and customer satisfaction, making us the go-to choice for all your oversized transport requirements.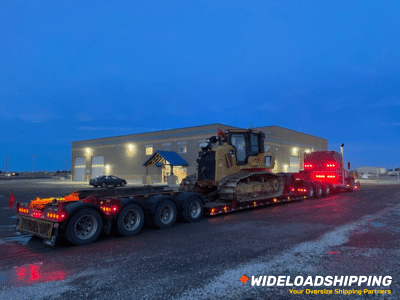 What To Know About Tijuana
Tijuana is a vibrant city bordering the United States in the northwestern part of Mexico. With over 1.8 million residents, Tijuana is one of the largest cities in the Baja California region. The city is renowned for its lively culture, diverse culinary scene, and thriving manufacturing industry. Tijuana's proximity to the U.S. border has become a key player in international trade and commerce. With such a bustling economy and continuous growth, the demand for reliable oversize equipment shipping services in Tijuana is on the rise. That's why we step in as the trusted oversized equipment shipping services provider to help you conveniently get your products to their locations. As the leading provider of oversize equipment shipping services in the region, we understand the unique challenges of transporting oversize loads in a city like Tijuana. 
Get a Free Transport Quote Today!
How To Transport Oversize Equipment in Tijuana
Border crossing and international logistics require careful planning and attention to detail. Our expert team is well-versed in handling the complexities of cross-border shipping, ensuring a smooth and seamless transportation process. Our extensive experience in Tijuana allows us to easily navigate busy routes, obtain necessary permits, and handle customs procedures. All you have to do is let us know what services you need today, and we will start working on your shipment immediately. Regarding oversized load transport, our services are comprehensive and tailored to your specific needs. We believe in providing the best oversize equipment shipping services to ensure the success of your transportation operation. From the initial consultation to the final delivery, we are dedicated to maximizing efficiency and safety. Our project managers work closely with you to understand your cargo's unique requirements, the destination, and any time-sensitive considerations.
Transport Your Load On The Right Trailer With Us
Double Drop Deck Trailer
Max Dimensions: 29FT Length, 8.5FT Width, and 11.5FT Height
Max Weight: 45,000LBS

Step Deck Trailer
Max Dimensions: 53FT Length, 8.5FT Width, and 11.5FT Height
Max Weight: 48,000LBS

Removable Gooseneck Trailer (RGN)
Max Dimensions: 53FT Length, 8.5FT Width, and 11.6FT Height
Max Weight: 150,000LBS

Flatbed Trailer
Max Dimensions: 53FT Length, 8.5FT Width, and 8.5FT Height
Max Weight: 48,000LBS

Book Our Oversize Equipment Hauling Services in Tijuana Today
Safety is our top priority. We employ stringent safety protocols to safeguard your oversize equipment during transit. Our specialized fleet is equipped to handle a wide range of oversize loads, and our experienced drivers undergo rigorous training to ensure responsible transportation. Additionally, we provide escort services and liaise with authorities to secure any necessary permits, ensuring a smooth journey for your cargo. At our company, we understand that each oversize shipping project is unique and may require special handling. That's why we offer comprehensive consultation and planning services to ensure all aspects of the transportation process are carefully considered. We take care of route planning, obtaining necessary permits, and coordinating with local authorities to ensure a seamless journey for your oversize load. If you are looking for reliable and efficient oversize equipment shipping services in Tijuana, our experts will gladly take you through our fine-tuned oversize equipment transport process. With a focus on safety, efficiency, and customer satisfaction, we provide top-notch solutions to meet all your heavy hauling needs. Whether you are involved in construction, manufacturing, or any industry requiring oversize load transport, our expert team is ready to provide the ideal shipping solution for your needs. Don't settle for subpar shipping services—choose us as your trusted oversize transport partner. Contact us today to discuss your project and experience our top-notch services firsthand. Let's make your next oversize shipping venture a success. 
2008 Delmag RH20 Foundation Drill Haul
Specs: 72L 10W 11.1H
Weight: 108,000Lbs
Origin: Tijuana
Destination: Juarez
Broker Name: David I.
Shipping a 2012 CAT D6N LGP Crawler Dozer
Specs: 25L 12W 11H
Weight: 45,000Lbs
Origin: Leon de los Aldama
Destination: Tijuana
Broker Name: Sam D.
2023 Kershaw Ballast Regulator Transport
Specs: 32L 10.6W 11.6H
Weight: 32,500Lbs
Origin: Guadalajara
Destination: Tijuana
Broker Name: Stephen L.
Your dedicated transport agent provides you with an all-inclusive quote tailored to fit your needs. We pull the permits, handle route surveys, find the best driver, and more.
Once everything is in place, a driver is dispatched to pick up your heavy equipment. Your equipment is safely loaded and secured before setting off.
Your dedicated agent is available throughout the entire journey to answer any questions you may have. Your oversize load is delivered safely and on time. Get your transport quote now!