Palletized Stones Transport 101: Wide Load Shipping
Wide Load Shipping is a company you can rely on when it comes to the transportation of palletized stones. With over a decade of experience, we know how to handle palletized stones of all weights and dimensions. Our team is qualified, and we have modern state of the art trailers and trucks to transport palletized stones anywhere you need them safely and on time. Our palletized stones shipping services are available all year round and can be accessed by calling, emailing, or filling out the form on our website.  Provide us with accurate information so that we can offer you an accurate quote. Call us now to get started.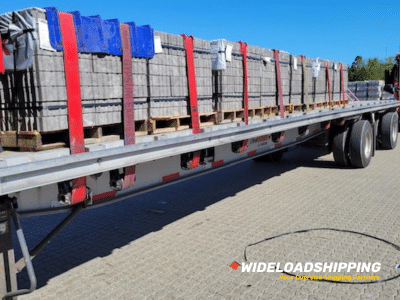 Get Your Shipping Estimate
Transport Your Load With The Best Company In The Industry
Ship Palletized Stone with Wide Load Shipping Today
The process of shipping palletized stones is easy and fast when done right. Therefore, hiring a qualified company like us is important to handle all your transportation needs. We will identify the best truck or trailer to ship your palletized stones, acquire transportation documents, and identify the best method to load and unload them. Below are palletized stone types you can transport with us. 
Aggregate stones, e.g. crushed stones and gravel

Natural stones e.g. marble, granite, sandstone, and slate

Pavers and Stepping Stones

Decorative stones e.g. pebbles and river rocks
How Do You Load and Unload Palletized Stones
There're three main methods of loading palletized stones. They include side-by-side, turned, and pinwheeled loading methods. Each of these methods has its advantages, and we ensure the best one is used. Depending on the number of pallets you're shipping, we ensure they're loaded with care, and the space available is utilized. When shipping a few pallets of stones,  the best mode of transport is less than truckload, where your load occupies limited space in a truck. However, full truckload (FTL) is where your pallets occupy an entire truck. The cost of transporting palletized stones depends on the number of pallets, weight, size, mode of transport, and number of miles, among others. The more pallets, the more you will pay because they require a larger trailer or truck.
Get Your Shipping Estimate
Transport Your Load With The Best Company In The Industry
Safe and Fully Insured Palletized Stones Transportation Services 
Wide Load Shipping must fully insure every load before it's loaded on a trailer. Even better, we make you a holder of our insurance by adding your name to the copy. With that copy, you can confirm your load is insured by calling the insurer, and you can claim compensation if something were to happen to the palletized stones. Our team is careful when loading your palletized stones, and they start by inspecting them and filling out a bill of lading form. That form shows the condition of the palletized stones before transport and is used at the delivery location to confirm if they were delivered in a similar state. Our drivers are qualified and familiar with the fastest and most convenient routes to ensure your palletized stones are delivered on time. If you need your palletized stones shipped urgently, we offer expedited services at an extra cost. Call us today for reliable palletized stone shipping services. 
Your dedicated transport agent provides you with an all-inclusive quote tailored to fit your needs. We pull the permits, handle route surveys, find the best driver, and more.
Once everything is in place, a driver is dispatched to pick up your heavy equipment. Your equipment is safely loaded and secured before setting off.
Your dedicated agent is available throughout the entire journey to answer any questions you may have. Your oversize load is delivered safely and on time. Get your transport quote now!