Everything You Need To Know About Oversize Tank Transport
Oversized tanks are massive hardened containers standard in factories and other industrial setups. Shipping steel, carbon, concrete, or other oversize tanks requires trailers and adherence to high safety standards. Wide Load Shipping offers tank trucking and delivery services for all oversize tanks. Tanks come in various sizes and are designed for diverse functions like water and other fluid storage. Tanks are also made from a variety of materials.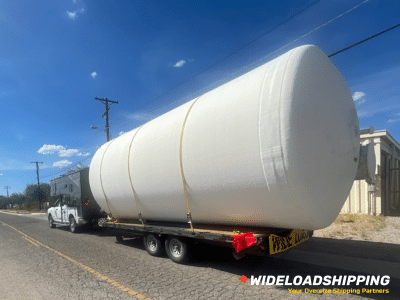 Get Your Shipping Estimate
Transport Your Load With The Best Company In The Industry
Trucking Solutions for All Types of Oversize Tanks
Wide Load Shipping provides trucking solutions for:
Hardened Plastic Tank Transport

Hardened or Galvanized Steel Tank Shipping

Concrete Tank Trucking

Fiberglass Tank Transport

Aluminum Tank Shipping

All Oversize Tank Trucking Services

Such functionalities and designs make it important to be meticulous with oversize tank transport. Wide Load Shipping has experienced agents ready to ship your tank today. We understand our customers' needs when moving these tanks and have acquired a specialized trailer fleet for moving standard, oversize, and even superload tanks. Get an oversize tank shipping quote today! (877) 792-5056
Nationwide Oversize Tank Transport Services
Wide Load Shipping provides oversize tank transport in all 50 states. Yes! We ship oversize tanks to Alaska and Hawaii. We also have an international team who can provide oversize tank trucking to Canada or Mexico. Local or long-distance trucking solutions are available year-round. Our oversize tank trucking services cover various regions countrywide and go the extra mile to ensure your load is safe and delivered on time. We have licensed and professionally established drivers adapted to any situation and road condition.
Benefits of Oversize Tank Trucking with Wide Load Shipping
Oversize tank shipping varies from state to state. This depends on what's considered oversize or standard. Each state has standard maximum legal dimensions determining the parameters and permits needed to move your cargo. Required permits and trained, licensed drivers must accompany all oversized tanks exceeding the legal length. Wide Load Shipping understands these regulations and will help you with the process. The great value attached to oversize loads is paramount when shipping. That's why our services offer several precautionary benefits that include:
Professional Oversize Tank Transport Services


Wide Load Shipping has years of experience, trained personnel, a fleet of diverse trailers, and other equipment and licensure to offer professional oversize tank trucking. We provide reliable door-to-door, port-to-business, and your other choice locations. Your oversize tank transport request is assigned to a specialist who helps you get all the needed documents, trailer, pilot car, and other requirements for efficiency.
Route Surveys for Your Oversize Tank Freight


The nature of your oversize tank load and destination may require a route with minimal traffic and enhanced safety. Wide Load Shipping experts conduct a route survey to determine the most efficient road or highway for your shipment. The route surveys help to plan an efficient way that prevents delays and minimizes costs associated with fuel.
Oversize Load Regulations by State


Moving oversize tank loads require various permits that vary by state. Our years of experience allow Wide Load shipping experts to liaise with various transport regulation agencies and list all the necessary shipping permits and parameters for your tank transport by state.
All-Inclusive Oversize Tank Shipping Quotes


Wide Load Shipping has an all-inclusive approach when you request a quote to ship your oversize tank. This includes everything needed for your tank freight and other amenities with no hidden charges.
Expert Oversize Tank Transport


We simplify the process for you by allowing our experts to handle every aspect of your oversize tank shipment. Our experts will guide you from the initial dispatch location to the final delivery.
Frequently Asked Questions (FAQ)
How much does it cost to ship a tank?

The cost of shipping a tank depends on the size, weight, permits, and destination. In most shipments, it's also calculated dollar per mile.
What is the best trailer to ship an oversize tank?
The cargo's dimensions, weight, distance, and rating determine the best trailer for an oversized tank. However, RGN trailers are popular and suitable for a wide range of oversize loads that can't fit in an enclosed space.
Your dedicated transport agent provides you with an all-inclusive quote tailored to fit your needs. We pull the permits, handle route surveys, find the best driver, and more.
Once everything is in place, a driver is dispatched to pick up your heavy equipment. Your equipment is safely loaded and secured before setting off.
Your dedicated agent is available throughout the entire journey to answer any questions you may have. Your oversize load is delivered safely and on time. Get your transport quote now!