A Professional Lowboy Trucking Services Company
Wide Load Shipping has a wide array of state-of-the-art trailers. Among them are the lowboys which we use to transport heavy and oversized equipment and machinery such as bulldozers. These trailers are low in terms of structure, which makes them easy to load and unload due to their structure. Below are the dimensions of lowboy trailers;
Length: 24ft to 29.6 ft.

Width: 8.5ft maximum.

Height (well): 18 in. to 24 in.

Standard height from the ground: 18 ft.

Freight height: 11.5ft to 12 ft.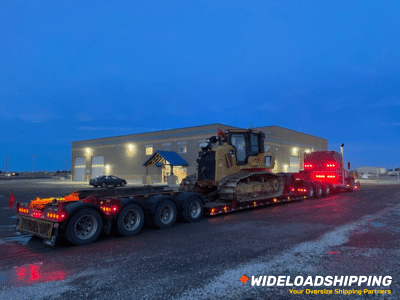 Lowboy trailers come in different types based on their capacity and specifications. The type of lowboy trailer used to move your load will depend on the weight and dimensions. Below are some common types of lowboy trailers used for transport.
1. Fixed Gooseneck Lowboy
These lowboys are attached to the trailer with drop decks, making loading from the front and back easy. In addition, they're equipped with drop ramps at the back, making it easy to load and unload heavy equipment. Fixed gooseneck lowboy trailers are lightweight and have a longer deck length. They have an adjustable gooseneck, which is arched in a way that, when lowered, it becomes a ramp, making it easy to pull tires of a piece of equipment onto the deck. These trailers maintain a fixed position when the gooseneck is adjusted.
2. Removable Gooseneck (RGN) Lowboy
Commonly known as RGNs, these trailers have a shorter deck length. These lowboy trailer types can be mechanical and hydraulic. The hydraulic system of RGN lowboy trailers makes it possible to lower and raise them, which makes pushing, pulling, driving, and lowering heavy equipment easily. These workhorses can extend upto 20 axles and can haul upto 150,000 pounds.
As the name already suggests, these trailers have a fixed neck, making it difficult to load from the front because they can't be detached. They're lightweight, and equipment can be loaded using fixed ramps.
Get a Free Transport Quote Today!
Specifications of Lowboy Trailers
Lowboy trailers were invented in 1920 when they had solid rubber tires and a riveted gooseneck. However, the removable gooseneck was invented in 1958. Below are the unique features of lowboy trailers. 
1. Suspension Types 
Lowboy trailers have different types of suspensions. Below, we will discuss the pros and cons of each type.
These suspensions are ideal for low-speed transports since the movement of one wheel relies on the movement of the rest. However, despite being inexpensive and easy to maintain, their damping effect is poor, and the driver isn't able to adjust the height of the ride for loaded or empty trailers.

These suspensions are flexible, light, and offer great stability. They're fuel efficient and have less wear and tear due to low vibrations. They can be adjusted for lower or higher deck height. Despite extending the lifespan of your tires, these suspensions are expensive compared to other lowboy suspensions.

These types of lowboy suspensions offer consistent load distribution and are highly stable, making them ideal for heavy-duty trailers. They're inexpensive, reliable, and easy to maintain.
2. Tires 
Lowboy trailers have two types of tires names tube tires and tubeless tires. We will discuss each type below.

Tube Tires are pressurized, making them ideal for shipping heavy loads. Despite having a shorter lifespan due to blowouts, they're easy to repair.

These types of tires are unpressurized, making them suitable for shipping lighter loads. They have a long service life and great wear resistance, which makes them less likely to blow out in case of a puncture. However, they're not ideal for rough terrains and can be difficult to repair.
3. Capacity
Lowboy trailers have a maximum capacity of 50,000 lbs (25 tons) or 70,000 lbs (35 tons). Keep in mind that this isn't solely the weight of the trailer but rather combined with that of the load. 


4. Hydraulic or Mechanical Systems
Lowboy trailers are equipped with a hydraulic or mechanical gooseneck. Below is what you need to know about each.

They're easy to operate. However, they're heavier and more expensive.

These types of systems are harder to operate. However, they're cheaper, lighter, and require low maintenance.
Transport Your Load On The Right Trailer With Us
Double Drop Deck Trailer
Max Dimensions: 29FT Length, 8.5FT Width, and 11.5FT Height
Max Weight: 45,000LBS

Step Deck Trailer
Max Dimensions: 53FT Length, 8.5FT Width, and 11.5FT Height
Max Weight: 48,000LBS

Removable Gooseneck Trailer (RGN)
Max Dimensions: 53FT Length, 8.5FT Width, and 11.6FT Height
Max Weight: 150,000LBS

Flatbed Trailer
Max Dimensions: 53FT Length, 8.5FT Width, and 8.5FT Height
Max Weight: 48,000LBS

Affordable Lowboy Trucking Services Across All 50 States
Wide Load Shipping has the above-mentioned lowboy trailers and much more to transport your load safely. Our lowboy trucking services are available all year round. Once you make a booking, a dedicated specialist is assigned to your shipment. They will process your shipping request by acquiring the required paperwork and permits and choosing a suitable trailer for transport. Wide Load Shipping is familiar with shipping regulations across every state, and we ensure they're followed to avoid fines. We use cranes to load and unload heavy equipment, and that can't be driven on and off a trailer. Before that, a bill of lading form is filled out to document the state of your load before transport. We use that form at the delivery location to confirm if your load is delivered in a similar state. Therefore, it's good to ensure your load is clean before we arrive so that we can see all the sides clearly and note down accurate information. In addition, remove personal belongings or any attachments that can get lost or damaged during transit. Wide Load Shipping offers fully insured lowboy shipping services, guaranteeing total compensation if your heavy equipment isn't delivered safely. We're careful when handling each piece of equipment, and our drivers are familiar with highways leading to and from different cities. Besides the dimensions and weight of your load, the cost of lowboy transport services is also influenced by the distance, season, and condition of your load. For example, inoperable equipment will cost more to transport because they require more resources, such as cranes and a rigger crew for loading and unloading. Call Wide Load Shipping today to get a free lowboy shipping estimate.
Transporting an Excavator
Specs: 23w x 11h
Origin: Miami
Destination: New York
Broker Name: Bob
Transporting an Excavator
Specs: 23w x 11h
Origin: Miami
Destination: New York
Broker Name: Bob
Transporting an Excavator
Specs: 23w x 11h
Origin: Miami
Destination: New York
Broker Name: Bob
Your dedicated transport agent provides you with an all-inclusive quote tailored to fit your needs. We pull the permits, handle route surveys, find the best driver, and more.
Once everything is in place, a driver is dispatched to pick up your heavy equipment. Your equipment is safely loaded and secured before setting off.
Your dedicated agent is available throughout the entire journey to answer any questions you may have. Your oversize load is delivered safely and on time. Get your transport quote now!