Legal Load Limits in Quebec, Oversize Load Rules, & More
The following are the legal dimensions and weights allowed in Quebec without requiring a oversize shipping permit.
Length: The overall maximum length limit is 75ft and 53ft for semi-trailers.
Width: 8'6ft is the maximum width allowed in Quebec.
Height: The Quebec DOT has a maximum height limit of 13'6ft.
Weight: The maximum weight allowed depends on the axle spacings. The overall is 12,000 lbs on steer axles, 22,020 lbs on single axles, 39,600 lbs on tandem axles, and 46,000 lbs on the tridem axles.
Overhang: Any load that has over 6'6ft in rear overhang must be accompanied by shipping permits.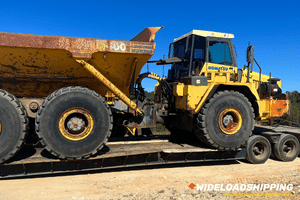 Routine Heavy Haul and Oversize Trucking Permits in Quebec

Here are the maximum dimensions and weights considered routine in Quebec
Length: Any load or vehicle exceeding 131ft must be accompanied by a shipping permit.
Width: A load above 16ft in width must acquire shipping permits.
Height: Shipping permits are a must when a load is taller than 16ft.
Weight: This depends on the axle configurations and highways used during transport.
Overhang: Shipping permits are required when a load exceeds a 13ft overhang on the front and rear. 
What Are the Requirements for Obtaining Special Oversize Trucking Permits in Quebec?
The following information must be provided to obtain a special shipping permit.
Name – This can be a business name or the given names of an individual

Address – This can be that of a business or personal residential 

Category or class applied for

Number of previous special permits 

Make and model when transporting a crane, semi-trailer, or trailer with more than 4 axles or special mobile equipment.

Name of the broker (if applicable)

A statement showing the load is non-divisible

Special needs (if applicable)

Number of the trucking permit or license
Get Your Wide Load Shipping Quote!
Haul your heavy load with the best transporters in the industry!
When Are Pilot Cars / Escort Vehicles Required in Quebec?
A load must be accompanied by one or more pilot cars when it exceeds the following dimensions.
Length: When a load is over 90ft in length, 1 pilot car is required, and when it exceeds 130ft, 2 escort vehicles must be used.
Width: When a load is over 12'3ft in width, 1 escort car must be used on all highways. When it's over 14'4ft, 2 escort vehicles are used, and when over 17'5ft, a police escort, and special requirements may apply.
Height: A load taller than 14'9ft requires an escort car with a height pole.
Overhang: A load with over 13'3ft rear overhang and over 6'6ft front overhand must be accompanied by 1 pilot car. 
NOTE: The above requirements may change depending on the route used.
Pilot Car and Escort Car Requirements in Quebec
Any car used as an escort must meet the following requirements per the Quebec transportation department.
Must have a gross vehicle weight rating (GVWR) of less than 4,500kgs

Must have lamps, flares, or reflectors visible upto a distance of at least 300 m

Must have 2 amber lights at least 1 meter apart visible from 360 degrees, or 3 amber lights with the center light visible from

360º and the other 2 spread 1 meter apart. These lights must have 60 to 90 cycles per minute. The 360º light must have a lens of over 10 cm in diameter and a height of at least 12 cm visible in every direction of at least 300 m. When flash lights are used, they must have a diameter of 17.50 cm and be visible at least 300 m from the rear and front.
Signs, Flag, and Lights Requirements During Transportation of An Overdimensional Load in Quebec
A red light must be attached at the extreme points of the rear overhang.

Flags must be used at the widest points of the rear and front corners of the overhangs.

Vehicles under a permit must turn on headlights and display an amber beacon light visible from every direction.

"D" signs must be used at the front and rear when a load is over 10ft in width, over 82ft in length, and over 14ft in height. NOTE: "Oversize Load" signs can't be used as a replacement for the "D" signs. In addition, the "D" signs must be covered or removed when not in use.
Get Your Wide Load Shipping Quote!
Haul your heavy load with the best transporters in the industry!
Traffic Rules to Follow When Transporting Oversized Loads in Quebec
Despite a load having special permits, the following Quebec traffic rules have to be adhered to.
A vehicle's total weight or size shouldn't exceed the limit allowed on a public highway.

Transportation cannot happen when the visibility is less than 1 km or the snow on the roadways isn't cleared according to the maintenance conditions allowed on that highway.

Loads can't be transported on

Sundays and legal holidays. Below is a list of statutory 
Loads over 12ft in width or 82ft in length can't be transported after 3:00 pm on Friday and must wait until Monday morning. Loads exceeding 14ft in width and 82ft in length cannot be hauled between 7:00 to 9:00 am or 4:00 – 6:00 pm.
New Years' Day 

Good Friday 

Victoria Day 

Canada Day 

Labour Day

Thanksgiving Day

Remembrance Day

Christmas Day

 
Even with a special permit, any load exceeding 3.75 m in width, single unit vehicle over 17 m in length, crane over 21 m in length, a combination of 2 road vehicles consisting of a crane and semi-trailer exceeding 27.50 m, a combination of 3 road vehicles consisting of a tractor, semi-trailer, and a hauled dolly exceeding 30m, and a combination of vehicles under Class 2 permit whose rear overhang is over 4 m are not authorized to travel on the following roads.
(a.) Québec region, from 7:00 a.m. to 9:00 a.m. and from 4:00 p.m. to 5:30 p.m. on:
The Pierre-Laporte Bridge and its approaches

Autoroute 73 between Autoroute 20 and Notre-Dame-des-Laurentides

Autoroute 40 between the intersection with Autoroute 73 and the intersection with Autoroute 440

The Québec Bridge and its approaches

Autoroute 540

Autoroute 440 between Saint-Augustin and Québec

 
(b.) Montréal region from 6:00 a.m. to 9:30 a.m. and from 3:30 p.m. to 7:00 p.m. on:
Champlain Bridge and its approaches

Honoré-Mercier Bridge and its approaches

Autoroute 440

Autoroute 520

Autoroute 640

Autoroute 15 between exit 29 and exit 44

Autoroute 13

Route 132 between Autoroute 15 and Boucherville

Route 138 between Honoré-Mercier Bridge and Autoroute 20

Jacques-Cartier Bridge and its approaches

Autoroute 20, between exit 29 and exit 98

Autoroute 40 between exit 35 and exit 89

Autoroute 25
NOTE: The travel restrictions on ("a" and "b") above don't apply on Saturdays.
Quebec Province DOT Trucking Information
Physical Address
Ministère des Transports
Service Québec 511
500, boul. René-Lévesque Ouest, bureau 4.010
Montréal (Québec) H2Z 1W7 
Contact Information
Anywhere in Quebec: 511
Other Provinces: 1 888 355-0511
MORE USEFUL INFORMATION
Wide Load Shipping offered amazing services. They transported my excavator from Rhode Island to Louisiana and I couldn't be happier with the transport.
This was the third company I called. After having so many problems with the first two, I was grateful to find a hauling company that was professional and affordable. Will go with Wide Load Shipping every time!
I needed a last minute oversize load transport for cold milling machine. Wide Load Shipping expedited the permits, found a reliable driver, and got my freight delivered on time.