The Importance of Equipment Shipping Insurance
Just like every other aspect of our lives, equipment insurance during transport is important to cover unforeseen accidents that could happen. Working with a professional and fully insured equipment transport company like Wide Load Shipping is an excellent way to ensure your equipment is delivered safely, but sometimes accidents happen. Whether slight or severe accidents, you will be fully compensated for any damage done. Handling equipment during transport can be tricky, especially when loading large ones on a trailer. A slight mistake could flip the equipment upside down, and it's always best to be safe than sorry.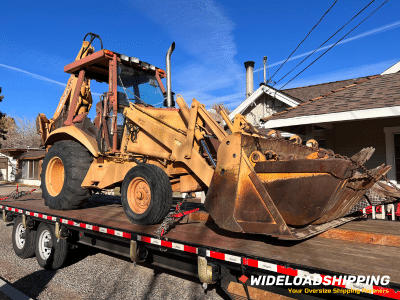 Get Your Shipping Estimate
Transport Your Load With The Best Company In The Industry
Let's Go Over the Basics of Transport Insurance
A trucking company or equipment transporter that is for hire has a DOT number managed by the federal government. In order to get one, a transport company that is for hire has to have a minimum of $100.000 in cargo insurance. Just because your equipment is loaded onto their truck does not mean you are covered. So, here's what you want to do:
Ask your equipment hauler for their "package." This is an industry-wide term that means you are asking for their W-9, insurance certificate, and a copy of their federal authority.
Call the insurance company off of the insurance certificate and tell them you would like to be listed as a "certificate holder." They will ask, "who is the insured," and tell them the name of the equipment hauler you choose to use.
They will then ask you for a fax number (get a free one) (some can do this via e-mail) and send you a new copy of the certificate with your name on it.
This is about as close to good as you can get. If you need additional coverage, you can discuss prices with them but make sure you actually do the purchasing of the additional amount through your transport company.
Wide Load Shipping offers insurance for every piece of equipment at a cost and makes each client a holder of the insurance. That gives you the power to contact the insurer directly to claim compensation if the equipment isn't delivered safely. 
What's the Cost of Equipment Shipping Insurance?


The cost of equipment transport insurance varies from one shipment to another depending on the size, weight, model, and manufacturer, among other factors. The specialist handling your shipment will ensure your equipment is insured for its worth. When your equipment is delivered, take your time to inspect it in comparison to the bill of lading form. Otherwise, you can't claim compensation after you've signed the form confirming safe delivery. Transporting a piece of equipment that's fully insured gives you peace of mind because you know you're covered in case of an accident. Pieces of equipment such as wheel loaders are expensive; shipping them insurance is high risk. Wide Load Shipping offers insurance to customers seeking transport equipment and carriers who aren't insured. You can book your equipment transport today through a call, email, or by filling out the form on our website. Our equipment shipping insurance is available to everyone in need of one. 
We Offer Insurance Of The Following Equipment And More!
Your dedicated transport agent provides you with an all-inclusive quote tailored to fit your needs. We pull the permits, handle route surveys, find the best driver, and more.
Once everything is in place, a driver is dispatched to pick up your heavy equipment. Your equipment is safely loaded and secured before setting off.
Your dedicated agent is available throughout the entire journey to answer any questions you may have. Your oversize load is delivered safely and on time. Get your transport quote now!