Flatbed Transport Services You Can Rely On
Flatbeds are the most reliable and commonly used type of trailer. These 20ft, 40ft, 48ft, and 53ft trailers transport all types of loads, including machinery and equipment. The size of the trailer used to transport your load depends on its weight and dimensions. A larger and heavier load is transported with a bigger trailer to evenly distribute its weight and size. Wide Load Shipping only uses state-of-the-art flatbed trailers to transport machinery and equipment to and from different states. When you book our flatbed transport services, your shipment is processed by a dedicated specialist who identifies a suitable trailer for transport based on the dimensions and weight you provide. In addition, they acquire the paperwork needed to facilitate successful transport. Always provide us with accurate information about your load so that we can choose the right trailer for transport.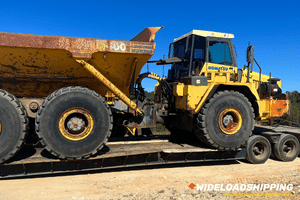 Convenient and Reliable Flatbed Shipping Services
Wide Load Shipping offers everything from transport permit pulling to pilot car services. When you speak with a dedicated agent, they'll determine the best truck and trailer for transport based on the dimensions of your equipment. Your agent will pull the permits and conduct route surveys to ensure a safe and efficient transport route. All equipment transports are fully insured. When the driver arrives, they will inspect your equipment and document everything on a Bill of Lading (BOL) form. This inspection is essential to ensure your equipment is delivered in the same condition. If there is a discrepancy in your equipment from pickup to delivery, speak with your dedicated agent before signing the BOL form. During transport, your equipment may have to go through weigh stations, so providing the proper information is vital. Your equipment shipping quote is calculated based on the dimensions of the equipment, the amenities necessary for transport, the distance traveled, and more. Your dedicated transport agent will consider all this for an all-inclusive shipping rate. Find out more by giving us a call now! 
Affordable Flatbed Shipping Services Across the Country
With flatbed transport quotes, Wide Load Shipping searches for the best rates possible. The dimensions and weight of your equipment, along with the distance to travel, are two main things that comprise a quote. However, there are several other factors that can influence the rate, including toll prices, the season of transport, loading assistance, and more. Your dedicated agent will factor everything necessary into the flatbed shipping quote and provide you with the most affordable rate available. Because so many factors go into an equipment transport quote, working with a credible company like Wide Load Shipping is essential. Our team provides the best equipment transport services at the most affordable rates. Call Wide Load Shipping today and get your equipment transport quote!
Get Your Wide Load Shipping Quote!
Haul your heavy load with the best transporters in the industry!
Wide Load Shipping offered amazing services. They transported my excavator from Rhode Island to Louisiana and I couldn't be happier with the transport.
This was the third company I called. After having so many problems with the first two, I was grateful to find a hauling company that was professional and affordable. Will go with Wide Load Shipping every time!
I needed a last minute oversize load transport for cold milling machine. Wide Load Shipping expedited the permits, found a reliable driver, and got my freight delivered on time.