Quality Freight Shipping for Oversize Loads
Wide Load Shipping transports all freight anywhere in the United States and overseas. Freight shipping is when you transport cargo or equipment by land, air, or sea. Freight transport can be a shipping container, mobile home, heavy equipment, and more. It can be standard size, meeting state regulations, or oversize, in which case permits will need to be pulled. Freight shipping generally refers to the bulk transport or goods, but over the years, the term has broadened in its definition. Whether you need to transport freight in bulk, or haul an oversize load, Wide Load Shipping has the resources and experienced team to get it done right.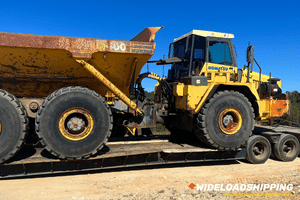 Affordable Freight Shipping Services Across the Country
Freight shipping is usually handled by a freight forwarding company, also known as a broker. This is a company that acts as the bridge between the client and the carrier. Freight forwarding companies are essential, because they are able to compare between multiple carriers to find the best rate possible. Wide Load Shipping handles every step of this process for you. We find the best carrier, pull any permits necessary, and even provide loading assistance for your freight transport. Everything is calculated into one affordable quote, with no hidden fees. Your dedicated transport agent will provide everything you need and walk you through the freight shipping process so you know what to expect. Call Wide Load Shipping and get your freight transport quote now!
Transporting Freight of All Kind
Wide Load Shipping provides transport services for all freight. Whether you need to ship a container, an LTL load, or a super load, we have the experience and resources to get it done. We ship freight all across the United States and overseas. Your dedicated Wide Load Shipping agent will walk you through every step of the process, so you know what to expect during every step of the transport. Wide Load Shipping provides custom transport solutions for all freight shipments.
Wide Load Shipping transports freight of all kinds. Whether it's standard equipment, or an awkward, bulky load, we'll get it delivered safely. Your freight is safe in our hands. Wide Load Shipping is licensed, bonded, and insured to ship freight, providing you with the peace of mind you need. Transporting freight requires several steps to ensure it's done safely. Your experienced agent will take care of everything for you, so you can rest assured your freight shipment is done correctly.
Freight Shipping Services We Provide
LTL (Less Than Truckload) Transport
Expedited Freight Shipping
Intermodal Freight Transport
Truckload Freight Shipping
Logistics Services
Port-to-Port Freight Shipping
Break Bulk Freight Transport
Partial Truckload Freight
Flatbed / Open Deck Freight Shipping
Bulk Freight Transport
Rail Freight Shipping
Get Your Wide Load Shipping Quote!
Haul your heavy load with the best transporters in the industry!
Wide Load Shipping offered amazing services. They transported my excavator from Rhode Island to Louisiana and I couldn't be happier with the transport.
This was the third company I called. After having so many problems with the first two, I was grateful to find a hauling company that was professional and affordable. Will go with Wide Load Shipping every time!
I needed a last minute oversize load transport for cold milling machine. Wide Load Shipping expedited the permits, found a reliable driver, and got my freight delivered on time.