Heavy equipment shipping.
Multiple quotes from heavy-haul and heavy equipment shipping companies.
Heavy equipment shipping can get complicated. If you need to ship weighs over 47,000 pounds more than likely it will be classified as a heavy-haul shipment. The total weight of a loaded truck can not exceed the Federal and State maximum of 80,000 pounds GVW, Gross Vehicle Weight. In order to ship equipment this heavy requires a special permit issued by the State(s), it will travel in/through. Heavy haul shipments such as cranes, caterpillars, tractors, bulldozers, farm & mining equipment, and other industrial equipment have to be approved for transport before the truck is permitted to move. In some cases, if the equipment is excessively heavy a route survey may have to be performed in advance before a trucking permit will be issued. The first thing you want to do is gather all of the specifications on the piece of equipment you are shipping. You can usually find this information in your equipment manual, registration, or by searching the online equipment database at RichiesSpecs.
Obtaining a heavy equipment shipping quote with WideloadShipping is easy. Simply fill in the details of your shipment and specialized carriers will start contacting you almost immediately. Transport your equipment without the middle-man to and from anywhere in the world.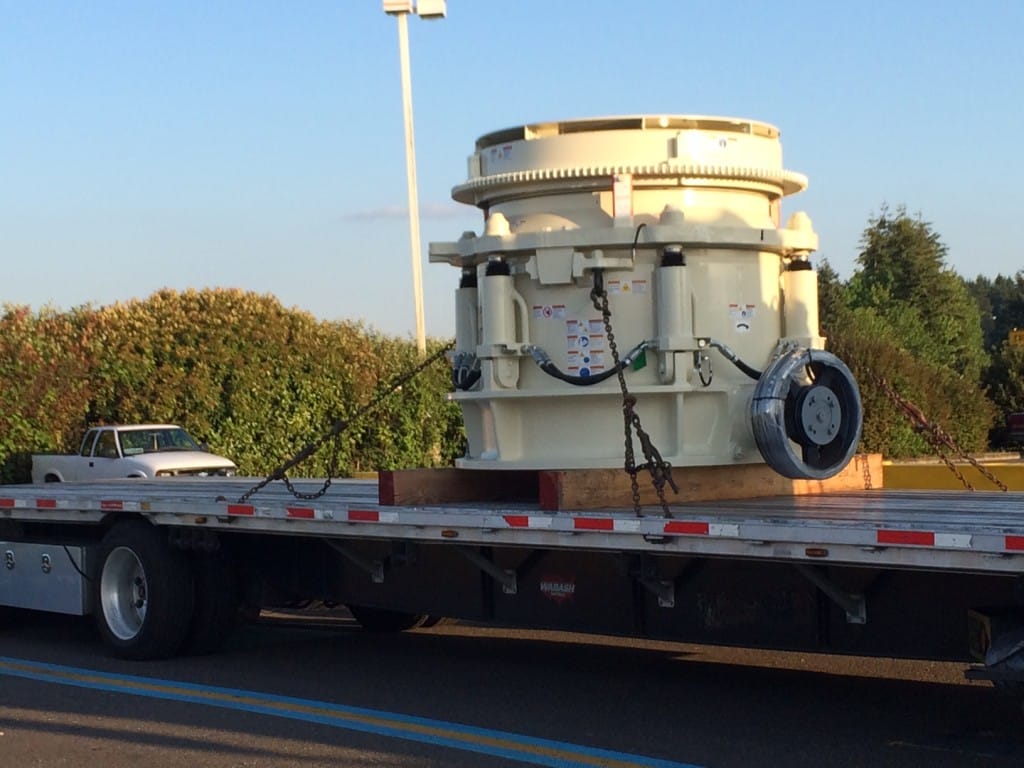 What you can do to make your heavy equipment ready to ship.

Getting your equipment ready to ship is important. Planning each step in the process will help you avoid problems like attempting to load it on the wrong truck or accruing detention time charges to delays in loading/unloading, etc. To help you get started we have a wealth of information for you such as the WideloadShipping guide to shipping heavy equipment. or you may wish to learn more about obtaining heavy equipment shipping insurance. or consider more information on selecting the right heavy equipment shipping company.
Popular shipments:
Dozers
Loaders
Scrapers
Cranes
Hydraulic Excavators
Forklifts
Backhoes
Boom Trucks, Heavy Trucks, Bucket Trucks
Graders – Grade-All
Agricultural and Farm Equipment
Heavy Construction Equipment
Wind Energy
Mining Equipment
Manufacturing Equipment
Skid Steers
Forestry Service and Lumber Industry
Ship Wright, Milling and Dredging Equipment
You will want to remove any parts or obstructions that may stick out and make your shipment taller or wider. You want to reduce your equipment down to the lowest height and width possible. The wider or taller it is the more difficult it is to get the permit approved and the more expensive it can be to ship. Bulldozers in many states must remove the blade off of the unit before transporting. Be sure to check the oversize shipping regulations in the states your shipment will be traveling through so you know what the trucking company you are going to use is up against.
Popular brands:
Caterpillar.
Liebherr Group.
Hitachi – Hitachi, Ltd.
SANY Group Company Ltd.
Zoomlion.
John Deere.
Ford.
Case.
Mack.
Komatsu.
International.
Terex.
Kubota.
Massey Ferguson.
International Harvester.
New Holland.
Peterbilt.
Freightliner.
Volvo Construction Equipment.
Aeromaster.
In some cases, trucking companies may have their heavy equipment trailers tied up on a job and may not have a truck and trailer locally available for you on your intended ship date. If you do not get the response you were hoping for after posting your equipment to our database for a quote you can also contact heavy equipment shipping companies direct by using our links below. They will be happy to discuss your dates of availability and pricing in order to transport your shipment. You can also try adjusting your ship date by a few days if possible. In many cases, customers are able to save money by doing this as it is no longer a time-sensitive shipment and other trucking companies may have availability on that date. Try not to be in a hurry.
Make sure you have everything in place to properly load the equipment onto the truck. Many types of equipment like bulldozers, cranes tractors, and farm equipment require ramps for loading. Prior to solidifying and agreements make sure the trucking company you are working with has ramps on their trailer and if not that you can arrange to have them on site. If a crane is needed to load the equipment ensure that you have made arrangements with the crane company well in advance so you do not incur detention charges for delaying your truck while waiting for essential equipment.
Taking extra time and properly preparing your heavy equipment shipment can save you time and money. Check out our guide on how to ship heavy equipment so you've done the proper research ahead of time. In doing so you will ensure you are ready when the time comes to load your shipment onto the trailer.
Locate Heavy Equipment Transporters & Shippers by State:
Alabama Heavy Equipment Shipping
Alaska Heavy Equipment Transport
Arizona Heavy Equipment Shipping
Arkansas Heavy Equipment Transport
California Heavy Equipment Shipping
Colorado Heavy Equipment Transport
Connecticut Heavy Equipment Shipping
Delaware Heavy Equipment Transport
Florida Heavy Equipment Shipping
Georgia Heavy Equipment Transport
Hawaii Heavy Equipment Shipping
Idaho Heavy Equipment Transport
Illinois Heavy Equipment Shipping
Indiana Heavy Equipment Transport
Iowa Heavy Equipment Shipping
Kansas Heavy Equipment Transport
Kentucky Heavy Equipment Shipping
Louisiana Heavy Equipment Transport
Maine Heavy Equipment Shipping
Maryland Heavy Equipment Transport
Massachusetts Heavy Equipment Shipping
Michigan Heavy Equipment Transport
Minnesota Heavy Equipment Shipping
Mississippi Heavy Equipment Transport
Missouri Heavy Equipment Shipping
Montana Heavy Equipment Transport
Nebraska Heavy Equipment Shipping
Nevada Heavy Equipment Transport
New Hampshire Heavy Equipment Shipping
New Jersey Heavy Equipment Transport
New Mexico Heavy Equipment Shipping
New York Heavy Equipment Transport
North Carolina Heavy Equipment Shipping
North Dakota Heavy Equipment Transport
Ohio Heavy Equipment Shipping
Oklahoma Heavy Equipment Transport
Oregon Heavy Equipment Shipping
Pennsylvania Heavy Equipment Transport
Rhode Island Heavy Equipment Shipping
South Carolina Heavy Equipment Transport
South Dakota Heavy Equipment Shipping
Tennessee Heavy Equipment Transport
Texas Heavy Equipment Shipping
Utah Heavy Equipment Transport
Vermont Heavy Equipment Shipping
Virginia Heavy Equipment Transport
Washington Heavy Equipment Shipping
West Virginia Heavy Equipment Transport
Wisconsin Heavy Equipment Shipping
Wyoming Heavy Equipment Transport

 "…this is super easy and quick".
"I had heard of WideloadShipping before but had never used it. One day we needed to locate a trucking company that could handle a 180,000 injection molding machine we wanted to purchase. At first, I started calling locally, then remembered this site.  Thanks, you guys made it easy!!"
-Archer
"picked up and delivered load on time".
"We needed to buy a new harvester tractor for our farm and I had no idea how to move it from its location to us. I came here and got solid quotes. I'm not going to say how much I saved but the difference from one to the other was enough money saved that we will use the service again and tell others. Thank you this is a great tool!!"
-Kevin R 
See also:
Choosing the right equipment shipping company.
Heavy equipment shipping guides.
Heavy-haul shipping regulations.