Overheight Transport Services You Can Rely On
Overheight loads require special trailers and attention. Therefore, you must ensure that you hire a professional like Wide Load Shipping. We're a  company with over 15 years of experience in how to transport your overheight load and deliver it on time safely. We have modern trailers suitable for shipping your overheight load safely. Our specialists will process your shipment and identify the best trailer for transport. In addition, they will pull the necessary permits and keep you updated until your overheight load is delivered. You can call, email, or fill out the form on our website to make a booking.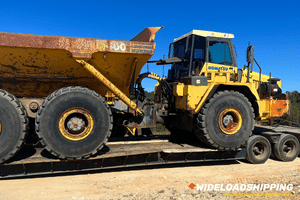 Reliable Overheight Transport Company
Every state has height limits, and the permit fee depends on how many feet your load has exceeded. For example, if the height limit is 13' and your load is 16.6', you will cater for the 3.6'. The permit fee is included in our final shipping estimate, and you don't have to pay extra. Our experts might help you avoid paying the permit fees by choosing a trailer with a structure that will compensate for the height of your load. Lowboy trailers are ideal for this because they're close to the ground. While transporting overheight loads, the permittee removes structures that are hindrances to avoid damages. Depending on the size of an overheight load, some states require it to be accompanied by pilot cars. 
Fully Insured Overheight Transport Services
A specific agent will handle your overheight load shipment and keep you updated at all times.  The cost of transporting an overheight load will depend on its dimensions, weight, season, and distance. For overheight loads that can't be driven onto a trailer, we assign a loading team and rigger crew to help them load and unload it safely. A BOL form must be filled out before transport to help us know if it's delivered safely. In addition, your load will be fully insured against damage. For overheight load transportation services, contact us today through our toll-free number at (877) 792-5056.
Get Your Wide Load Shipping Quote!
Haul your heavy load with the best transporters in the industry!
Wide Load Shipping offered amazing services. They transported my excavator from Rhode Island to Louisiana and I couldn't be happier with the transport.
This was the third company I called. After having so many problems with the first two, I was grateful to find a hauling company that was professional and affordable. Will go with Wide Load Shipping every time!
I needed a last minute oversize load transport for cold milling machine. Wide Load Shipping expedited the permits, found a reliable driver, and got my freight delivered on time.