Power Only Shipping Services Across the Country
Power only shipping services might not be similar to regular transport services, but they're very common. Unlike the regular hauling services where we provide the trailer and driver, power only shipping services only require a driver and tractor because the owner already owns a trailer. This form of transport is commonly used by people in business and RV owners who only require shipping services once in a while. To use power only shipping services, you must own the trailer, and we offer you the power and manpower to move it to any destination across the country. As a result, power only transport services are cost-effective since you only need to hire a driver and tractor when you need them, as opposed to hiring a full-time driver and buying a tractor that you only get to use a few times a year. In addition, you get to save money since you don't have to pay huge detention fees. Once the driver delivers your trailer to the asked location, he leaves immediately and doesn't have to wait around.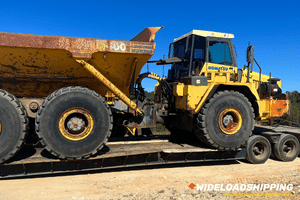 How is Power Only Shipping Cost Determined?
Like every other form of transport, the cost of power only shipping services varies from one shipment to another. However, the factors that affect the cost of power only transport services are slightly different due to factors such as deadhead distance which is the number of miles the driver has to travel before getting to where the trailer is located. These miles affect the cost of transport, and the longer the driver travels to get to the pick-up location, the more you will pay. The other two big factors affecting power only shipping costs are weight and size. The heavier and larger the shipment is, the more the cost is due to high fuel usage. Therefore, despite power only shipping services needing a trailer and driver-only, it doesn't mean they're always cheaper. Once the deadhead distance, weight, and size are considered, it might cost you more than regular shipping services. However, it's still cost-effective if you only use power only shipping services once in a while. Trailer type and commodity are among the other factors affecting the cost of power only transport services.
Professional Power Only Transport Services You Can Rely On
Wide Load Shipping has over a decade of experience offering power only transport services and different state-of-the-art trailers to move trailers of different makes and sizes. Our resources are distributed across all cities in the country, making us fast, efficient, and reliable. Once you make a booking, we contact our affiliates near you and give them the location of your trailer, delivery location, dates, and other necessary information for easy pick up. Having our resources near you reduces the deadhead distance to your trailer, making our power only shipping services affordable. Our drivers are highly experienced and trained to safely hook up the tractor to your trailer and move it safely to a destination of your choice. You can contact us for single or multiple power only shipping services, and we will offer you a free and accurate shipping estimate. If you have multiple trailers that require to be moved to a nearby location, you can contact us for a driver and have him take all the trailers to a new location.
Fully Insured State to State Power Only Transport Services
We care about your load and will ensure it's fully insured against damages. Accidents occur unexpectedly, and it's better to be safe than sorry. Our driver must fully inspect your trailer before it's hooked up for transport and fill out a bill of lading form. That's essential because that form helps us know if your trailer is delivered safely or not. Take time to inspect your trailer at the final destination before signing a bill of lading form confirming safe delivery because you can't claim compensation after signing. Like all our services, we offer expedited power only shipping services to clients with a time constraint at an extra fee. For long or short distance power only shipping services in any state, call us now at (877) 792-5056.
Get Your Wide Load Shipping Quote!
Haul your heavy load with the best transporters in the industry!
Wide Load Shipping offered amazing services. They transported my excavator from Rhode Island to Louisiana and I couldn't be happier with the transport.
This was the third company I called. After having so many problems with the first two, I was grateful to find a hauling company that was professional and affordable. Will go with Wide Load Shipping every time!
I needed a last minute oversize load transport for cold milling machine. Wide Load Shipping expedited the permits, found a reliable driver, and got my freight delivered on time.