Oversize and Overweight Equipment and Machinery Transport Services
Transporting a heavy and oversized load can be stressful. However, it gets easier to use a professional with 12+ years of experience acquired from offering heavy hauling and oversize load shipping services like Wide Load Shipping. In addition to offering resourceful information regarding oversize and overweight loads, we also offer reliable shipping services. Wide Load Shipping has a team of heavy haul shipping experts knowledgeable about different types of heavy equipment and machinery. Depending on the size and weight of a wide load, they recommend the most suitable trailer for transport. We have a wide array of trailers with different capacities to accommodate all types of oversized and overweight loads. Transporting oversize and overweight loads with us means that a specific heavy load specialist is assigned to handle your shipment until it's safely delivered. They will process and dispatch it on time and regularly update you on progress.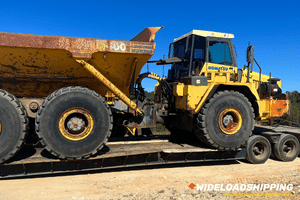 Fully Insured Oversize and Overweight Load Shipping Services
Whether it's a small or large load, we fully insure it before it's dispatched. That's to ensure that if something happens along the way and the load isn't delivered in the condition we picked it in, the client is fully compensated. Wide Load Shipping makes all clients holders of the insurance cover so that if needed, they can claim total compensation directly from the insurance company without having to pass through us. That is easy and fast. When shipping oversize and overweight loads across the country, our heavy-duty vehicle specialists acquire the necessary shipping permits so that we can transport them through public roads without getting in trouble. That means the roads are prepared during the transport day by removing anything that would hinder the overheight or overwidth load from passing through. Different states have different overheight, overweight and overwidth load transport limit regulations. 
Affordable and Timely Oversize and Overweight Load Transport Services
Our logistics specialists assign pilot cars to the wide load to guide the drivers during transport. They clear the roads and warn motorists about the wide load. Wide Load Shipping offers affordable oversize and overweight load shipping services. In addition, our shipping quotes are free and affordable. We have cranes to help us load and unload them safely. Our resources and workforce are spread across the country to help us serve different clients fast and simultaneously. Our wide load shipping costs vary from one shipment to another depending on factors such as distance traveled and the size of the load. Our wide load shipping experts will take good care of your heavy load and ensure that it's delivered safely. We guarantee timely delivery of heavy loads. Wide Load Shipping gives you the peace of mind you need when shipping oversized or overweight machinery or equipment across the country, Mexico or Canada. Nothing is too heavy or oversized for Wide Load Shipping. We handle them all. 
Get Your Wide Load Shipping Quote!
Haul your heavy load with the best transporters in the industry!
Wide Load Shipping offered amazing services. They transported my excavator from Rhode Island to Louisiana and I couldn't be happier with the transport.
This was the third company I called. After having so many problems with the first two, I was grateful to find a hauling company that was professional and affordable. Will go with Wide Load Shipping every time!
I needed a last minute oversize load transport for cold milling machine. Wide Load Shipping expedited the permits, found a reliable driver, and got my freight delivered on time.