Windows Shipping Services You Can Rely On
Wide Load Shipping is one of the most trustworthy windows transport companies in the United States. We transport windows of all sizes, materials, and weights. With over a decade of experience, we know how to handle windows and ensure they're delivered safely. Our team is well-trained and works tirelessly to ensure your shipment meets all the requirements before it's dispatched. To make a booking, you can call through our toll-free number or fill out the form to get a free estimate. We have a wide variety of trucks and trailers to help us transport windows of all numbers and sizes. Call us today for a quote.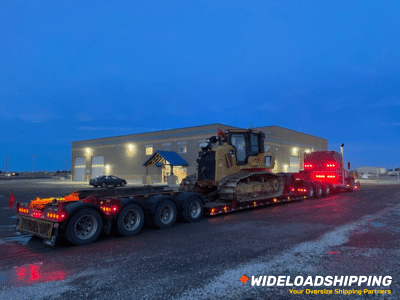 How To Load and Unload Windows on a Truck
Windows require to be handled with care because they can easily get damaged if mishandled. Below are some of the things we do to guarantee the safety of your windows during transport. 
1. Load Windows Upright at a 45-Degree Angle
Windows shouldn't be stacked flat during transport because they tend to break easily. When windows made of glass are resting on the truck bed, they're easy to break from the vibration and pressure of bumps.
2. Use Layers of Sponge Between Windows or Stretch Foil
We use stretch foil when shipping single windows because they're highly elastic and durable. The window is fully wrapped with stretch foil to protect it from any damage. However, sponges are ideal when shipping multiple windows. They're placed in between before wrapping the bundle of windows to avoid ratting and bumping into each other. 
Wooden stillage offers added security when shipping windows. They provide a surface to lean and stack the windows. They also make it possible to strap and secure the windows for transport. 
4. Use Non-slip Mats or Materials on the Truck Bed
The floors of trucks are slippery, which makes it easy for windows to slide. Therefore, using mats and other materials on the truck helps keep the windows in one position until they're delivered. 
Get a Free Transport Quote Today!
Affordable and Fully Insured Window Shipping Services
The cost of shipping windows isn't fixed and depends on what you're transporting. The weight, size, material, and distance are some factors that influence the cost of shipping your windows. The larger and heavier the windows, the bigger the truck or trailer used to accommodate their weight and size evenly. We fully insure every piece of the window we transport to protect them against unforeseen dangers. Our window shipping services are available all year round, and regardless of the location of your construction site, we will ensure they're delivered safely. We have a specialised team that will choose the right truck or trailer to transport your windows safely.
Transport Your Load On The Right Trailer With Us
Double Drop Deck Trailer
Max Dimensions: 29FT Length, 8.5FT Width, and 11.5FT Height
Max Weight: 45,000LBS

Step Deck Trailer
Max Dimensions: 53FT Length, 8.5FT Width, and 11.5FT Height
Max Weight: 48,000LBS

Removable Gooseneck Trailer (RGN)
Max Dimensions: 53FT Length, 8.5FT Width, and 11.6FT Height
Max Weight: 150,000LBS

Flatbed Trailer
Max Dimensions: 53FT Length, 8.5FT Width, and 8.5FT Height
Max Weight: 48,000LBS

How to Safely Transport Windows Safely
Shipping windows to a new construction site can be done through less than truckload (LTL) or full truckload (FTL). Less than truckload is when your windows are shipped together with loads owned by other people. That method is ideal for windows that aren't made of glass and can be easily damaged. Less than a truckload is affordable but might take longer since the driver has to make other deliveries along the way. A full truckload is when a truck is fully dedicated to shipping your windows. This method is best for windows that can easily break and require to be handled with care. Despite the method being slightly expensive, it's fast. Call Wide Load Shipping for a free quote. 
Your dedicated transport agent provides you with an all-inclusive quote tailored to fit your needs. We pull the permits, handle route surveys, find the best driver, and more.
Once everything is in place, a driver is dispatched to pick up your heavy equipment. Your equipment is safely loaded and secured before setting off.
Your dedicated agent is available throughout the entire journey to answer any questions you may have. Your oversize load is delivered safely and on time. Get your transport quote now!