Fully Insured Statue Shipping Services
We help preserve priceless art with specialized safety equipment. Regarding the delicate task of transporting statues, our statue shipping services offer an unparalleled blend of expertise and dedication to preserving artistic treasures. As a leading shipping company, we understand the immense value that statues hold – both culturally and financially. With our specialized safety equipment and meticulous handling, we ensure that each statue is shielded from potential damage during transit. Our skilled team is well-equipped to handle statues of various sizes, materials, and intricate designs. We take pride in utilizing the proper safety equipment to prevent breakage and mitigate any risks associated with transportation.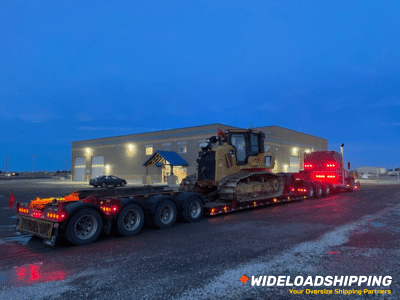 Transport Statues Locally and Internationally
From fragile sculptures to hefty monuments, we employ specialized packing materials, cushioning, and custom crates to provide a secure cocoon for each masterpiece. Our commitment to preserving the artistry ensures that your statues will arrive at their destination unharmed, ready to grace their new surroundings. We offer statue shipping services to clients looking to make shipments without worrying about their loved possessions' safety. While safeguarding your statues is our top priority, we also understand the significance of efficiency and timely deliveries in statue shipping services. At our shipping company, efficiency goes hand in hand with safety. We've streamlined our processes to ensure that your statues are transported promptly without compromising the care they deserve. From the moment of pickup to the final moment of delivery, our dedicated team orchestrates each step of the journey with utmost precision. Our commitment to efficiency translates into your statues reaching their destination without unnecessary delays. Our advanced logistics management system facilitates real-time tracking and monitoring, granting you transparency and peace of mind throughout shipping. 
Get a Free Transport Quote Today!
A Committed Statue Shipping Company
We recognize that the journey is as important as the destination, and our dedication to efficiency ensures that your statues are in safe hands while being delivered promptly. Statue shipping services are now easy to access thanks to our far-reaching services. Your investment in art deserves care, and our services are designed to deliver precisely that. Our shipping company is your premier choice when you're seeking secure, efficient, and reliable statue shipping services. Our commitment to preserving the artistry through specialized safety equipment and our unwavering dedication to efficiency without compromise sets us apart in the industry. Your statues deserve the highest degree of care, and we ensure they receive it at every stage of their journey.
Transport Your Load On The Right Trailer With Us
Double Drop Deck Trailer
Max Dimensions: 29FT Length, 8.5FT Width, and 11.5FT Height
Max Weight: 45,000LBS

Step Deck Trailer
Max Dimensions: 53FT Length, 8.5FT Width, and 11.5FT Height
Max Weight: 48,000LBS

Removable Gooseneck Trailer (RGN)
Max Dimensions: 53FT Length, 8.5FT Width, and 11.6FT Height
Max Weight: 150,000LBS

Flatbed Trailer
Max Dimensions: 53FT Length, 8.5FT Width, and 8.5FT Height
Max Weight: 48,000LBS

Your Trusted Partner for Statue Shipping Services
Selecting our statue shipping services means entrusting your artistic treasures to a reliable partner prioritizing safety, efficiency, and professionalism. We comprehend that every statue holds its unique significance and value – both culturally and emotionally. Our commitment transcends mere transportation; it extends to safeguarding your statues from their origin to their final display locations. From the moment your statues are placed in our care, we take on the responsibility of ensuring their well-being. Our expertise guarantees proper handling, secure packaging, and punctual deliveries. We maintain open and transparent communication, informing you about your shipment's progress and offering you the reassurance you need. Contact us today to discuss your statue shipping needs. Allow us to tailor a transportation plan that aligns with your specific requirements, ensuring your artistic treasures' secure and timely delivery. Entrust us with the responsibility of transporting your statues and experiencing our services' excellence. Your statues represent culture, beauty, and value – and they deserve the finest shipping solutions available.
Your dedicated transport agent provides you with an all-inclusive quote tailored to fit your needs. We pull the permits, handle route surveys, find the best driver, and more.
Once everything is in place, a driver is dispatched to pick up your heavy equipment. Your equipment is safely loaded and secured before setting off.
Your dedicated agent is available throughout the entire journey to answer any questions you may have. Your oversize load is delivered safely and on time. Get your transport quote now!