Learn About Bass Boat Transport Below
For over 15 years, Wide Load Shipping has provided exceptional bass boat transport services. Our highly-trained team focuses on delivering your bass boat to any destination and at the agreed time. We understand the complexities of moving a bass boat without proper knowledge and expertise. Therefore as an experienced bass boat shipping company, we have all the required and specialized equipment, trucks, and trailers. These equipment and experts are ready to serve you through our extensive knowledge of bass boat shipping services.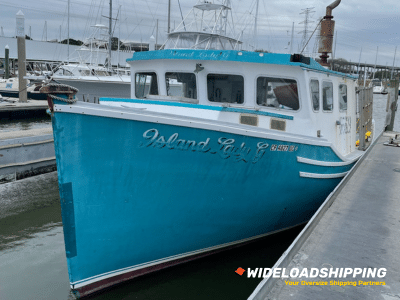 Get Your Shipping Estimate
Transport Your Load With The Best Company In The Industry
How to Load and Unload A Bass Boat on a Trailer?
Loading and unloading a bass boat follows some guidelines to ensure safety and efficiency. When shipping a bass boat with Wide Load Shipping, it's usually uncomplicated with our highly-skilled experts who understand the dimensions and the best trailer to use. When hauling a bass boat, it's vital to consider the dimensions that range from about 17 to 22 feet. Before loading, ensure the trailer is securely hitched to the towing truck and the boat ramp. Clear obstacles at the loading area and back down the trailer, ensuring it remains aligned with the ramp. Make sure it's submerged enough to allow the bass boat to float off easily. The boat is then guided on the trailer aligning with the centreline as much as possible with the bow pointed to the winch post or bow stop. Once positioned, the boat is securely fastened to the trailer with transom tie-down straps to prevent swaying and excessive movement in transit. When unloading the bass boat, the trailer is slowly backed down the ramp until it's partially submerged while still strapped. The straps are loosened with the boat engine set at neutral and then detached and carefully guided off the trailer. Wide Load Shipping experts will do all this as we have experience transporting various boat types, including,
Ranger Bass Boats

Nitro Bass Boats

Champion Bass Boats

Xpress Bass Boats

Tracker Bass Boats

Triton

Bass Boats




Hauling your cargo with Wide Load Shipping experts is safe, efficient, and straightforward. This is because our approachable and friendly staff offers nothing short of excellence with all-around clock assistance, including dedicated agents nationwide and internationally.
Why You Should Work with Wide Load Shipping Experts
Bass boat shipping services at Wide Load Shipping are always safe, reliable, and professional, with a touch of excellence. When you transport with us, our team will help you get and meet all the vital requirements, including permits, regulations, and insurance. When insured, you become the primary certificate holder, where you can directly contact the company for compensation when needed. Our bass boat transport services boast a well-skilled team that is fully trained and licensed to ensure your cargo is delivered safely. Before shipping your bass boat, we conduct a route survey to pick the most suitable for your shipment and timely delivery. We also have dedicated agents that organize reliable pilot or escort vehicles for your shipment. Our team has also set up a vast library of free heavy and oversized cargo transport to enlighten our customers. We also offer a free, all-inclusive quote with no hidden charges to ensure utmost transparency.
Get Your Shipping Estimate
Transport Your Load With The Best Company In The Industry
Trailers Used To Ship Bass Boats
Besides our professional team, we have the best and most modern equipment, including trucks and trailers, to offer unmatched professional bass boat shipping services. The most common method of transport is trailers. We have a reliable fleet of trucks and trailers, mainly,
RGN Trailers

Step /Drop Deck Trailers

Flatbed Trailers

Double Drop Trailer

Landoll Trailer

Conestoga Trailer

Our outstanding, unmatched, excellent, and professional bass boat shipping services are only a phone call away. Call (877)7925056 and let us ship your bass boat.
Your dedicated transport agent provides you with an all-inclusive quote tailored to fit your needs. We pull the permits, handle route surveys, find the best driver, and more.
Once everything is in place, a driver is dispatched to pick up your heavy equipment. Your equipment is safely loaded and secured before setting off.
Your dedicated agent is available throughout the entire journey to answer any questions you may have. Your oversize load is delivered safely and on time. Get your transport quote now!