Everything You Need To Know About Bus Transport
Buses are oversized loads that require the right equipment and carrier to load and transport them from one location to another. Transporting a bus should be done only by professionals. Luckily, At Wide Load Shipping, we have the equipment, experience, and expertise to haul your bus to your destination. Whether you are transporting a school bus, a minibus, or a double-decker tourist bus, our highly skilled and experienced logistics experts will coordinate your bus transport process.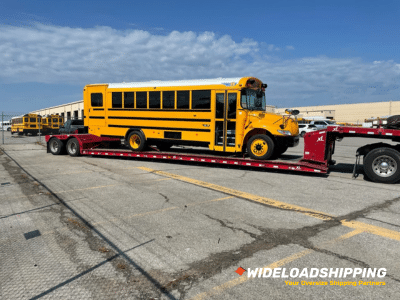 Get Your Shipping Estimate
Transport Your Load With The Best Company In The Industry
Customized Bus Shipping Services
At Wide Load Shipping, we don't have a one-size-fits-all approach when transporting a bus. We understand that the bus shipping requirements vary according to location, type of bus, and timescale. That's why we offer highly customizable bus shipping services to ensure the transport needs of every client are met. We have the right equipment to safely load and secure your bus onto the trailer and ship it to the location of your choice. We transport buses of any size and provide loading and offloading services. We also offer door-to-door bus transport services so that you get your bus right where you need it to avoid extra expenses. We have been transporting buses for over a decade and have the expertise to handle your needs. We are the right choice when transporting a bus across the US and beyond.
Our team of logistics agents will coordinate the transport process to meet your schedule. We will discuss pickup and delivery deadlines so that our logistic experts can plan to avoid any inconveniences. When you work with us, you get assigned a logistics expert who will work closely with you and update you on the bus transport process in real-time. With our highly skilled, experienced, and thoroughly vetted drivers, you can rest assured that your prized asset is safe. All our drivers are insured, bonded, certified, and trained to handle any bus model and size. At Wide Load Shipping, we pride ourselves as the most reliable bus shipping company to help get your bus on the road as fast and safely as possible.
Choosing the Right Bus Transport Company
When looking for a bus shipping company, you should not settle for any company on the yellow pages. You should always hire a reliable company with a track record of success transporting oversize loads. Since buses are long, tall, wide, and heavy, they require specialized carriers and equipment to load, secure and transport them safely. That's why you should choose a bus shipping company with the right equipment and knowledge to transport your bus. Also, when transporting your bus, you need to work with a company that will provide real-time information about your shipment. Our dedicated logistics experts will provide real-time shipment tracking and give you up-to-date information about your freight's location and estimated arrival time. You will also need to work with a company that will take care of all your shipping needs and is willing to adhere to your shipping preferences.
At Wide Load Shipping, safety is our top priority. We take all the necessary measures to ensure your bus is delivered to your destination safely and timely. In addition to using the latest technology and modern fleet, we provide highly trained and experienced drivers behind the wheel. Also, you should hire a licensed, insured, and bonded company. Wide Load Shipping company is licensed, insured, and bonded to transport oversized and overweight loads across the US and beyond. Since buses are oversize loads, we acquire necessary permits and adhere to set regulations when transporting your bus. Our logistics team will plan the best route in advance to avoid unnecessary delays. If you need to transport a bus, Wide Load Shipping should be your first choice. We provide excellent transport solutions and pay attention to detail. We also offer escort vehicles when necessary.
Shipping A Bus with Wide Load Shipping
Wide Load Shipping provides transparent bus transport services at an affordable rate. When you work with us, our transport agents will get all the necessary details regarding bus shipping, including bus size, weight, pickup, and delivery location. We will determine the best route and trailer for transporting your bus depending on the weight and dimensions of your bus. A standard flatbed trailer is suitable for transporting a minibus or shuttle. However, large buses, including school buses, double-deckers, highway buses, and transit buses, require a multi-axle trailer like a step-deck or an RGN. Whether your bus is in the proper condition or is inoperable, our transport logistics experts will ensure it's transported on the right equipment. Our drivers are trained and experienced to transport any model and size of a bus. They have the skills to maneuver through busy city streets.
Whether you are looking for cheap bus shipping services, international bus shipping, or door-to-door shipping or want to learn more about how buses are transported, we have the right equipment and resources to help you understand the ins and outs of transporting oversized loads. Our logistics experts acquire all the necessary permits depending on the bus size and the routes it may need to travel. With over 10 years of experience, you can rest assured you are working with the best bus shipping company that knows the specifics for transporting a bus. Since our establishment, we have been fortunate to ship different buses anywhere in the US and overseas.
Get Your Shipping Estimate
Transport Your Load With The Best Company In The Industry
Common Buses We Transport
Highway Buses

Electric Buses

Party Buses

Double-decker Buses

Coach Buses

Passenger Buses

Church Buses

Minibusses

RV Buses

Prison Buses

Transit Buses

Motor Coach Buses

Charter Buses

Limo Buses
Frequently Asked Questions
How Do You Load A Bus On A Trailer?
If transporting an operational bus, you start by riding it up the ramps and positioning it facing forward. The next step is securing the bus using specified tie-downs with good ratings.
How Much Does It Cost To Ship A Bus?
The cost of shipping a bus varies based on several factors, including weight, size, and distance traveled. Heavier and larger buses will cost more to ship than a shuttle bus or minibus.
Your dedicated transport agent provides you with an all-inclusive quote tailored to fit your needs. We pull the permits, handle route surveys, find the best driver, and more.
Once everything is in place, a driver is dispatched to pick up your heavy equipment. Your equipment is safely loaded and secured before setting off.
Your dedicated agent is available throughout the entire journey to answer any questions you may have. Your oversize load is delivered safely and on time. Get your transport quote now!