Professional Drywall Shipping Services
Wide Load Shipping transports a wide range of construction materials, including drywall. We fully insure every shipment of drywall to protect them from any damage that could occur during transport. Drywalls are known to be very slippery, and they slide off easily, which makes them susceptible to accidents. Therefore, the best way is to ensure they're protected by insuring them. Depending on the number and weight of drywalls being shipped, we identify the best trailer for transport and gather the important paperwork for transport. Whether you're a contractor, homeowner, or construction worker, we will help you transport the drywalls safely.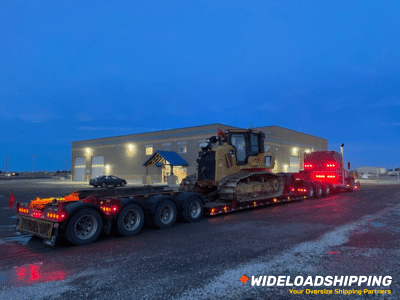 How to Transport Drywalls Safely and Efficiently
When you book our drywall shipping services, you work with a reputable specialist who will handle everything until they're delivered safely. Our services are door to door, business to business, and terminal to terminal. Call us today to get a free shipping estimate. The best way to ensure your drywalls reach the construction site safely is to hire a reputable company like Wide Load Shipping. A company with over a decade of experience and resources to ensure the drywalls aren't damaged in the process. Since drywalls can't be driven on and off a trailer, we use cranes to load and unload them. Our rigger crew oversees the process at the pick-up and drop-off location. They ensure the process is smooth and the drywalls are properly secured using strong straps to avoid slipping. Depending on the weather, we use enclosed or open trailers to transport drywalls. Flatbed trailers are suitable for this because of their structure. They are easy to load and unload. However, full truckload and less than truckload are also options to ensure the drywalls are protected. When loading drywalls, we start by laying straps on the truck and placing them before securing them. 
Get a Free Transport Quote Today!
Transport Your Load On The Right Trailer With Us
Double Drop Deck Trailer
Max Dimensions: 29FT Length, 8.5FT Width, and 11.5FT Height
Max Weight: 45,000LBS

Step Deck Trailer
Max Dimensions: 53FT Length, 8.5FT Width, and 11.5FT Height
Max Weight: 48,000LBS

Removable Gooseneck Trailer (RGN)
Max Dimensions: 53FT Length, 8.5FT Width, and 11.6FT Height
Max Weight: 150,000LBS

Flatbed Trailer
Max Dimensions: 53FT Length, 8.5FT Width, and 8.5FT Height
Max Weight: 48,000LBS

How to Load and Unload Drywalls on a Truck
Drywalls are a construction material that's used to create ceilings and walls. In addition, it can be used to design features such as arches and eaves. Drywalls are durable, easy to install, and simple to repair when damaged. Since drywalls are long, we extend the well over the lowered tailgate to accommodate them. The second way to load drywalls on a truck is by extending the bed of the truck bed by mounting to the hitch on the bottom. We offer affordable and timely drywall shipping services across the country and beyond. The transport cost is determined by the number of sheets, size, weight, distance, and season, among other factors. Regardless of the location of the location of the construction site or home, we will ensure your drywall is delivered safely. Our team carefully handles your drywall and stops at nothing to ensure they're delivered safely. If you need your drywalls delivered on short notice, we offer expedited services at an extra fee. Provide Wide Load Shipping with details regarding yourdrywalll shipping and get a free quote today.
Your dedicated transport agent provides you with an all-inclusive quote tailored to fit your needs. We pull the permits, handle route surveys, find the best driver, and more.
Once everything is in place, a driver is dispatched to pick up your heavy equipment. Your equipment is safely loaded and secured before setting off.
Your dedicated agent is available throughout the entire journey to answer any questions you may have. Your oversize load is delivered safely and on time. Get your transport quote now!