Pipe Transport Services You Can Rely On
Wide Load Shipping is a reputable construction material shipping company. Among what we transport are the pipes. Regardless of the weight, number, or size, we will plan how to get them moved safely and delivered on time. We understand pipes come in different types, and we handle each type with care to ensure they arrive safely. You only have to call, email, or fill out our form to make a booking. Ensure you provide us with accurate details of your pipes so that we're able to choose the best trailer for transport.  Call us today for pipe shipping services.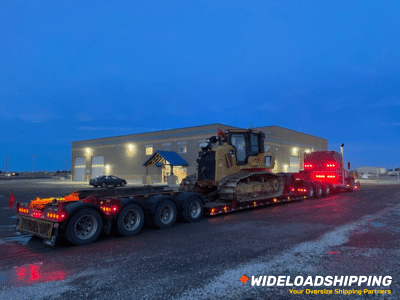 Types of Pipes Shipped By Wide Load Shipping
We transport pipes from all manufacturers. Below are the common types we haul and their uses in construction sites. 
These types of pipes are ideal for plumbing works and other uses that need the moving of different liquids. Carbon steel pipes can withstand high temperatures and pressure conditions. They're used in places such as sewage, boiler systems, petrochemical plants, and other industrial areas. 
2. Galvanized Steel Pipes
These pipes are reinforced through embuing with anti-corrosion and anti-rust techniques called galvanization. They have to go through surface preparation, where they're submerged in a hot bath of molten zinc (500 degrees Celsius). These pipes are used in drainage systems, railing, fencing, and bollards, among other places.   
These economical pipes are manufactured through the crushing of aggregates and are reinforced with materials such as steel to make them stronger. They're heavy and can be difficult to install. However, they're versatile and extremely flexible. They can be used in sewage systems and as culverts. 
Similar to steel pipes, iron pipes are galvanized to make them corrosion-resistant. Since they can withstand rusting and pitting, they can be found indoors and outdoors. However, they're not used in areas where water has a high content of iron, magnesium, or calcium.  They're used in automotive, architectural, aerospace, agricultural areas, and telecommunications installations.
Cast irons are one of the oldest pipes in the market. They're tough and have a long shelf life of up to 100 years. These pipes can be found in sewage, drainage systems, and residential places. They help prevent water contamination in plumbing systems and help prevent flooding. Despite their durability, they rust over time and accumulate corrosion.
These pipes are flexible, lightweight, and versatile. They're used in areas that require fluid transmission. They can be modified to accommodate different pipe fittings and are used in electrical wiring systems since they're watertight and waterproof.
Get a Free Transport Quote Today!
Transport Your Load On The Right Trailer With Us
Double Drop Deck Trailer
Max Dimensions: 29FT Length, 8.5FT Width, and 11.5FT Height
Max Weight: 45,000LBS

Step Deck Trailer
Max Dimensions: 53FT Length, 8.5FT Width, and 11.5FT Height
Max Weight: 48,000LBS

Removable Gooseneck Trailer (RGN)
Max Dimensions: 53FT Length, 8.5FT Width, and 11.6FT Height
Max Weight: 150,000LBS

Flatbed Trailer
Max Dimensions: 53FT Length, 8.5FT Width, and 8.5FT Height
Max Weight: 48,000LBS

Safe and Fully Insured Pipe Transportation Services
Every shipment we make is fully insured to protect it from any potential damage. We understand the pipes are delicate and expensive, and we will do everything in our power to protect them. Our services are affordable, and our team will make the plan to ensure all your pipes are delivered safely and on time. We use cranes to load and unload pipes. Our rigger crew ensures they're well secured before they're dispatched so that they don't fall off the trailer while in transit. Call Wide Load Shipping today to transport single or multiple pipes safely. 
Your dedicated transport agent provides you with an all-inclusive quote tailored to fit your needs. We pull the permits, handle route surveys, find the best driver, and more.
Once everything is in place, a driver is dispatched to pick up your heavy equipment. Your equipment is safely loaded and secured before setting off.
Your dedicated agent is available throughout the entire journey to answer any questions you may have. Your oversize load is delivered safely and on time. Get your transport quote now!