Everything You Need To Know About Helicopter Transport
Wide Load Shipping is one of the premier nationwide helicopter shipping companies. Whether you are transporting your helicopter locally or cross-country, we have a knowledgeable and experienced team that will handle every step. Our team transports all helicopters with the best shipping services in the industry. Helicopters are categorized as oversize and overweight loads that require specialized vehicles to ship them. At Wide Load Shipping, we have a fleet of helicopter shipping trailers that can handle cumbersome freight safely and efficiently. For over 13 years, Wide Load Shipping has provided premier helicopter transport services.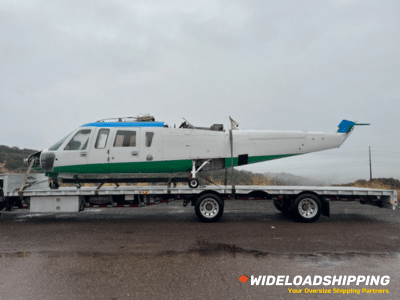 Get Your Shipping Estimate
Transport Your Load With The Best Company In The Industry
Reliable Helicopter Trucking Services
Helicopter transporting is a highly specialized trucking service that should be kept in the hands of the experienced freight carrier. While overweight and oversize cargo requires attention to detail and care, helicopter transport needs an in-depth knowledge of aircraft to avoid the risk of damage. At Wide Load Shipping, we have specialized equipment, and our drivers have extensive experience handling any helicopter make and model.
Our logistics experts will ensure your helicopter is shipped safely and timely. We use turn-indicative lights, fog lamps, number plate lights, and rear light reflectors during low visibility for secure transportation of your helicopter. We put in place every necessary measure to ensure your valuable asset is conveyed safely and efficiently. Our helicopter shipping experts have the knowledge to advise on how to transport all oversized helicopters.
Wide Load Shipping is more than just a helicopter trucking company. We provide all the necessary information to know more about oversized cargo transport. We obtain required permits and adhere to equipment transport laws and regulations. Our mission is to provide quality shipping services and guides for transporting your wide loads. Get a helicopter transport quote today! (877) 792-5056
Trailers Used To Transport Helicopters
Helicopters can be transported on various trailers, depending on what's necessary. Some helicopter transport trailers have a retractable tarp system with built-in cradles that fit various helicopter landing gear configurations, including attachments for storing removable components like blades.
Our step deck version of helicopter shipping trailers is perfect for small or low-profile rotary-wing aircraft. The drop deck helps us to ship helicopters at a lower height to avoid overhead obstructions and ensure the stability of the cargo. Our dispatch and logistics team carefully loads your helicopter consignment and hauls it safely to your destination. We use advanced equipment and machinery industry standards graded and certified to handle your helicopter transport.
We also use expandable double-drop trailers convenient for transporting helicopters whose heights exceed 10′ on the ground. These trailers are 48 long when collapsed and 70′ when expanded. This helps us to ship over dimensional helicopters even in states that are overly restrictive of over-height cargo.
In addition to our specialized low-bed or low-boy trailers with landing gear cradles to accommodate over-dimensional and overweight aircraft, we have the most experienced drivers to handle helicopter trucking services.
Whatever type of trailer you need for helicopter transport, we've got ready. Get your helicopter shipping quote today. (877) 792-5056
Helicopters Transported by Wide Load Shipping
At Wide Load Shipping, we transport private, commercial, and military helicopters, including:
Sikorsky UH-60 Black Hawk

MD Helicopters MH-6 Bird

Robinson R-22

Mil Mi-26

Beechcraft C-12 Huron

Eurocopter UH-72 Lakota

Boeing AH-64 Apache

Bell Mediums 212, 214, 204, 205, 412

MD 900
Frequently Asked Questions
How do you Transport a Helicopter?

You can transport a helicopter by land, air or sea. Land transport is the most affordable option for helicopter transport using specialized trailers like low-bed or low-boy.
Do you Need Permits to Ship a Helicopter on a Trailer?
Yes! You will need permits to transport a helicopter on a trailer. Permits are required for oversize and overweight loads, which differ from state to state.
Your dedicated transport agent provides you with an all-inclusive quote tailored to fit your needs. We pull the permits, handle route surveys, find the best driver, and more.
Once everything is in place, a driver is dispatched to pick up your heavy equipment. Your equipment is safely loaded and secured before setting off.
Your dedicated agent is available throughout the entire journey to answer any questions you may have. Your oversize load is delivered safely and on time. Get your transport quote now!