Industrial Compressors Shipping Services You Can Rely On
At our company, we do not leave anything to chance when offering our industrial compressor shipping services. That's why we accommodate strategic planning for optimal delivery. Every shipping operation is treated with professionalism and the same level of care. Whether it's a large industrial compressor or standard, we have what it takes to make the shipping operation successful. When it comes to the secure and efficient transportation of industrial compressors, our industrial compressor shipping services operate on a foundation of meticulous planning to ensure smooth deliveries. As a trusted shipping company, we understand industrial compressors' critical role in various industries, from manufacturing to energy production.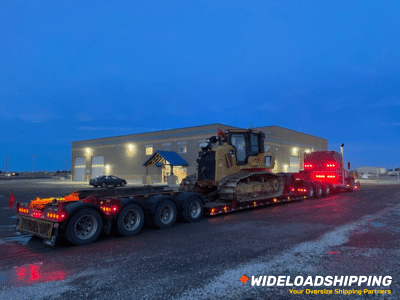 Safe Industrial Compressor Shipping Services
Our strategic planning process ensures that every aspect of the shipment is carefully considered, guaranteeing the safe arrival of your valuable equipment.  Our experienced team begins the planning process by assessing the industrial compressors' dimensions, weight, and technical specifications. We collaborate closely with our clients to gather essential details that guide our approach. This includes factors such as the equipment's fragility, the nature of its components, and any special handling requirements. Our commitment to excellence in industrial compressor shipping services ensures that every detail is accounted for in our planning, setting the stage for a successful shipment. Throughout the process, we keep the client engaged to ensure all his prerequisites are adhered to from the start to the end of the shipping operation. 
Get a Free Transport Quote Today!
Our Proactive Steps for Reliable Transport
The planning process for our industrial compressor shipping services involves proactive steps to ensure reliable and secure transportation. Each step is executed precisely, from selecting the appropriate packaging materials to determining the optimal loading and securing methods. Our team of experts leverages their technical knowledge to identify potential challenges and devise solutions to mitigate risks during transit. We prioritize specialized packaging and securing techniques to prevent movement and vibration that could damage the industrial compressors. Additionally, our transport vehicles are equipped with advanced suspension systems to absorb shocks and vibrations during transportation. These proactive measures underscore our commitment to delivering your industrial compressors in the same condition they were entrusted to us. With the meticulous planning it takes to provide seamless industrial compressor shipping services, clients can count on us to deliver over long or short distances.  Our unwavering commitment to quality, reliability, and personalized solutions sets our industrial compressors shipping services apart. Unlike one-size-fits-all approaches, we recognize that each industrial compressor requires unique handling.
Transport Your Load On The Right Trailer With Us
Double Drop Deck Trailer
Max Dimensions: 29FT Length, 8.5FT Width, and 11.5FT Height
Max Weight: 45,000LBS

Step Deck Trailer
Max Dimensions: 53FT Length, 8.5FT Width, and 11.5FT Height
Max Weight: 48,000LBS

Removable Gooseneck Trailer (RGN)
Max Dimensions: 53FT Length, 8.5FT Width, and 11.6FT Height
Max Weight: 150,000LBS

Flatbed Trailer
Max Dimensions: 53FT Length, 8.5FT Width, and 8.5FT Height
Max Weight: 48,000LBS

Personalized Industrial Compressor Shipping Services
Our expertise in managing delicate components, intricate wiring, and precise calibration positions us as leaders in the industry. We prioritize clear communication throughout the process, keeping you informed about every step of your industrial compressor's journey. Our dedication to excellence extends to our use of advanced tracking systems, enabling you to monitor the progress of your shipment in real-time. By choosing us, you benefit from a partner that values the safe transport of your industrial compressors as much as you do. Our shipping company is your trusted choice for reliable, expert industrial compressor shipping services. When you select our team to handle your industrial compressor shipping services, you experience the excellence of having a certified partner during shipping. Our strategic planning, proactive measures, and commitment to differentiation set us apart as industry leaders. Your industrial compressors deserve the best care; we ensure they receive it from start to finish. Reach out today to discuss your industrial compressor shipping requirements. Allow us to customize a transportation plan that aligns with your specific needs, ensuring your valuable equipment's secure and timely delivery. Entrust us with the responsibility of transporting your industrial compressors and experience our services' excellence. Your equipment is pivotal to your operations, and they deserve the finest shipping solutions available. Our consultants are always on standby to talk options with you. 
Your dedicated transport agent provides you with an all-inclusive quote tailored to fit your needs. We pull the permits, handle route surveys, find the best driver, and more.
Once everything is in place, a driver is dispatched to pick up your heavy equipment. Your equipment is safely loaded and secured before setting off.
Your dedicated agent is available throughout the entire journey to answer any questions you may have. Your oversize load is delivered safely and on time. Get your transport quote now!