Tailored Industrial Pumps Shipping Services
We serve a wide array of industries when it comes to industrial pump shipping services. We do this to allow clients to get tailored shipping solutions for their shipping needs. Whether you are shipping a large industrial pump or a smaller one in bulk, we have what it takes to get your shipment to your preferred destination. When it comes to the reliable and efficient transportation of industrial pumps, our industrial pump shipping services cater to a diverse range of industries that rely on these essential components. Industrial pumps play a vital role in various sectors, from oil and gas to water treatment. Our expertise in transporting these critical components ensures they are delivered safely and on time, allowing industries to maintain operations without disruptions.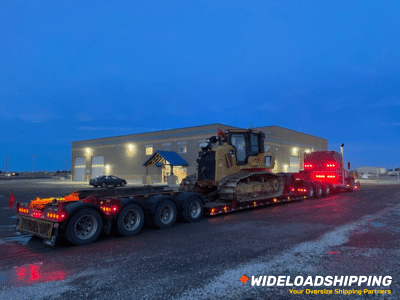 Proven Success in Industrial Pumps Transport
We understand the unique demands of each industry that requires industrial pumps, and our services are designed to address these specific needs. Whether it's the precision required in chemical processing or the durability essential in mining operations, our experienced team tailors our approach to meet the nuances of each sector. With our commitment to excellence in industrial pumps shipping services, you can trust that your equipment will be transported with care and precision. Our track record of successfully shipping industrial pumps speaks volumes about our expertise and dedication. We have handled a variety of industrial pump shipments in the past, each with its unique challenges and requirements. Our experience has enabled us to refine our processes, ensuring that every industrial pump is packaged, secured, and transported in a manner that preserves its integrity. From centrifugal pumps to positive displacement pumps, we understand these components' technical specifications and fragility. Our skilled handlers are trained to disassemble and reassemble industrial pumps as necessary, ensuring they are transported safely. 
Get a Free Transport Quote Today!
The Best Industrial Pump Transport Company
Our commitment to successful transport is evident in our positive client feedback and long-standing partnerships. When you choose our industrial pump shipping services, you're partnering with a team with a proven excellence history. Our connections with various industrial pump manufacturers set us apart as a trusted partner in industrial pump shipping services. These relationships allow us to streamline transportation by coordinating directly with manufacturers for packaging and handling guidelines. Our intimate knowledge of industrial pumps and insights from manufacturers ensure that every shipment adheres to industry standards and best practices. We have streamlined transport for industrial pumps by collaborating and teaming up with manufacturers in the past. Clients can, therefore, count on our services to match the shipping specifications provided by the manufacturer. The strict guidelines in the shipping industry and the manufacturers guide all our industrial pump shipping services. 
Transport Your Load On The Right Trailer With Us
Double Drop Deck Trailer
Max Dimensions: 29FT Length, 8.5FT Width, and 11.5FT Height
Max Weight: 45,000LBS

Step Deck Trailer
Max Dimensions: 53FT Length, 8.5FT Width, and 11.5FT Height
Max Weight: 48,000LBS

Removable Gooseneck Trailer (RGN)
Max Dimensions: 53FT Length, 8.5FT Width, and 11.6FT Height
Max Weight: 150,000LBS

Flatbed Trailer
Max Dimensions: 53FT Length, 8.5FT Width, and 8.5FT Height
Max Weight: 48,000LBS

Experience Excellence in Industrial Pumps Shipping Services
We understand the importance of proper packaging and securing techniques for industrial pumps, and our manufacturer connections enable us to provide you with expert guidance. By working closely with manufacturers, we ensure that your industrial pumps are packaged to minimize the risk of damage during transit. This unique advantage underscores our commitment to offering reliable and efficient industrial pump shipping services. Our shipping company is your trusted choice for efficient and reliable industrial pump shipping services. Our industry-specific approach, proven success, and manufacturer connections set us apart as industry leaders. Your industrial pumps deserve the best care; we ensure they receive it from start to finish. Contact us today to discuss your industrial pump shipping requirements. Let us customize a transportation plan that aligns with your specific needs, ensuring the secure and timely delivery of your essential equipment. Entrust us with the responsibility of transporting your industrial pumps and experience the excellence that our services provide. Your equipment is pivotal to your operations, and they require a trusted shipping companion to deliver viable solutions. 
Your dedicated transport agent provides you with an all-inclusive quote tailored to fit your needs. We pull the permits, handle route surveys, find the best driver, and more.
Once everything is in place, a driver is dispatched to pick up your heavy equipment. Your equipment is safely loaded and secured before setting off.
Your dedicated agent is available throughout the entire journey to answer any questions you may have. Your oversize load is delivered safely and on time. Get your transport quote now!