Expert Industrial Robot Shipping Services
Our industrial robot shipping services encompass a comprehensive approach that ensures a smooth journey for these complex machines. As a trusted shipping company, we understand that industrial robots are technologically advanced and vital components of various industries. From manufacturing to automation, these robots play a pivotal role, and their transportation demands precise considerations to ensure their safety. All our services have been fine-tuned over the years to ensure clients get the most out of their shipping operations. Whether you require to transport multiple industrial robots or need deliveries in different locations, we are equipped to take care of your shipping needs.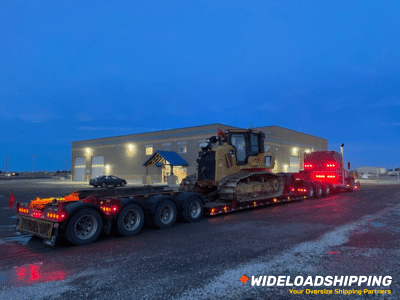 Industrial Robot Shipping Professionals
Our experienced team is well-versed in handling industrial robots, taking into account their size, weight, delicate components, and intricate wiring systems. We meticulously plan each shipment, devising a customized strategy to secure the robots during transit. Our commitment to excellence in industrial robot shipping services ensures that these advanced machines arrive at their destination unharmed, ready to continue their role in optimizing production processes. All our industrial robot shipping services are brought to you by a team of well-trained experts. Transporting industrial robots differs significantly from shipping other items due to their unique challenges. Industrial robots require specialized handling, packaging, and transportation, unlike standard shipments. Our industrial robot shipping services address these challenges by employing experts who understand the technical nuances of these machines.
Get a Free Transport Quote Today!
Experience Excellence in Industrial Robot Transport
We utilize cutting-edge equipment to safely dismantle, secure, and pack each robot, ensuring their safe transit from one location to another. Industrial robots' delicate wiring, intricate mechanics, and sensitive components demand extra care. Our skilled handlers are trained to disassemble, if necessary, and reassemble the robots upon arrival. Additionally, our transport vehicles are equipped with advanced shock-absorbing systems to minimize vibrations and jolts during transit. These distinguishing features of our industrial robot shipping services ensure that your robots are transported with the precision they require. We understand that industrial robot shipping services must be efficient and streamlined to keep your business on track. That's why we are always looking for new ways to update our services. Our team of certified professionals has undergone rigorous training to handle industrial robots with care. We possess the necessary certifications to manage these complex machines, giving you the assurance that your robots are in capable hands. From the moment your industrial robots are entrusted to us, we assume responsibility for their secure handling, transportation, and timely deliveries.
Transport Your Load On The Right Trailer With Us
Double Drop Deck Trailer
Max Dimensions: 29FT Length, 8.5FT Width, and 11.5FT Height
Max Weight: 45,000LBS

Step Deck Trailer
Max Dimensions: 53FT Length, 8.5FT Width, and 11.5FT Height
Max Weight: 48,000LBS

Removable Gooseneck Trailer (RGN)
Max Dimensions: 53FT Length, 8.5FT Width, and 11.6FT Height
Max Weight: 150,000LBS

Flatbed Trailer
Max Dimensions: 53FT Length, 8.5FT Width, and 8.5FT Height
Max Weight: 48,000LBS

Certified Professionals for Safe Industrial Robot Transport
When you choose our industrial robot shipping services, you are entrusting your valuable industrial robots to a partner that values expertise, precision, and safety. We understand that industrial robots are more than just machinery – they represent technological advancements and are essential assets to your operations. Our commitment goes beyond transportation; it extends to ensuring the secure passage of your robots and providing you with a hassle-free experience. Your investment in these machines deserves the highest level of care, and our industrial robot shipping services are designed to provide just that. Our shipping company is your trusted choice when you require efficient, reliable, and expert industrial robot shipping services. Our ability to handle the unique challenges of robot transportation and our commitment to certified professionals and specialized handling techniques sets us apart as industry leaders. Your industrial robots deserve the best care; we ensure they receive it from start to finish. Contact us today to discuss your industrial robot shipping requirements. Allow us to customize a transportation plan that aligns with your specific needs, ensuring your invaluable machines' secure and timely delivery. Entrust us with the responsibility of transporting your industrial robots and experience our services' excellence. Your robots epitomize technological innovation and deserve the finest shipping solutions.
Your dedicated transport agent provides you with an all-inclusive quote tailored to fit your needs. We pull the permits, handle route surveys, find the best driver, and more.
Once everything is in place, a driver is dispatched to pick up your heavy equipment. Your equipment is safely loaded and secured before setting off.
Your dedicated agent is available throughout the entire journey to answer any questions you may have. Your oversize load is delivered safely and on time. Get your transport quote now!