Specialized Oversized Industrial Components Transport Services
We have expert assembly and disassembly for all oversized industrial components shipping services. When it comes to the secure and efficient transportation of oversized industrial components, our specialized shipping services cater to the unique challenges of handling these substantial parts. As a trusted shipping company, we understand the critical role oversized industrial components play in various industries, from manufacturing to construction. Our expertise extends beyond transportation – we offer expert assembly and disassembly services that ensure your components are delivered with precision and care.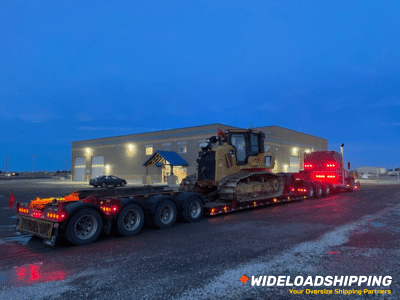 Compliance with Manufacturer's Specifications
Our experienced team is well-versed in handling oversized industrial components, possessing the skills to assemble and disassemble intricate parts safely. Whether it's oversized machinery or complex structures, we have the knowledge and equipment to ensure proper handling. This expertise guarantees that each component is packaged and secured correctly for transport and, if needed, reassembled upon arrival. With our commitment to excellence in oversized industrial components shipping services, you can trust that your components will be in capable hands from start to finish. Our oversized industrial components shipping services prioritize compliance with manufacturers' specific shipping and handling requirements. We recognize that different components demand tailored approaches to ensure their safe transport. By collaborating closely with manufacturers, we gather detailed guidelines that dictate how each component should be packaged, secured, and transported. 
Get a Free Transport Quote Today!
Oversized Industrial Component Transport Services
Our commitment to manufacturer specifications guarantees that your oversized industrial components are handled according to industry standards. This meticulous approach minimizes the risk of damage during transit, preserving the integrity of your valuable components. From customized packaging solutions to specialized securing techniques, we ensure that each step of the transportation process aligns with manufacturer recommendations, giving you the peace of mind that your components are safe. Planning is at the heart of our oversized industrial components shipping services, ensuring that every aspect of the process is meticulously executed. We understand that the successful transport of oversized components requires comprehensive planning to account for factors such as dimensions, weight, and transportation routes. Our team dedicates hours to planning each operation, ensuring every detail is considered and accounted for. We create a detailed plan that minimizes transit times and potential roadblocks by utilizing advanced route optimization tools and collaborating with traffic management authorities. This proactive approach allows us to identify alternative routes, anticipate potential delays, and ensure that your oversized industrial components arrive at their destination on time. Our dedication to thorough planning underscores our commitment to providing you with a seamless and efficient shipping experience.
Transport Your Load On The Right Trailer With Us
Double Drop Deck Trailer
Max Dimensions: 29FT Length, 8.5FT Width, and 11.5FT Height
Max Weight: 45,000LBS

Step Deck Trailer
Max Dimensions: 53FT Length, 8.5FT Width, and 11.5FT Height
Max Weight: 48,000LBS

Removable Gooseneck Trailer (RGN)
Max Dimensions: 53FT Length, 8.5FT Width, and 11.6FT Height
Max Weight: 150,000LBS

Flatbed Trailer
Max Dimensions: 53FT Length, 8.5FT Width, and 8.5FT Height
Max Weight: 48,000LBS

Experience Excellence in Oversized Industrial Components Transport
Our expertise in assembly and disassembly, compliance with manufacturer specifications, and thorough planning set us apart as industry leaders. That, backed by our experience in the industry, makes us qualified to handle any oversized industrial component shipping services. When providing shipping services, we ensure all clients get solutions tailored to their needs. Our services go beyond transporting oversized industrial components. We ensure that your needs are met and you have a direct line to our consultants throughout the process. Reach out to us today to discuss your oversized industrial components shipping requirements. Allow us to customize a transportation plan that aligns with your specific needs, ensuring your valuable components' secure and timely delivery. Entrust us with the responsibility of transporting your oversized industrial components and experiencing the excellence that our services provide. We understand that your components are important to your operations and deserve to be handled by certified experts. We are qualified to handle all your shipping needs. Call us today, and we will start working on your request right away. 
Your dedicated transport agent provides you with an all-inclusive quote tailored to fit your needs. We pull the permits, handle route surveys, find the best driver, and more.
Once everything is in place, a driver is dispatched to pick up your heavy equipment. Your equipment is safely loaded and secured before setting off.
Your dedicated agent is available throughout the entire journey to answer any questions you may have. Your oversize load is delivered safely and on time. Get your transport quote now!