Specialized Oversized Reactor Shipping Services
Handling oversize reactors requires specialized training. We have provided efficient reactor shipping services by delegating all our reactor shipping services to experts. When it comes to the intricate and secure transportation of oversized reactors, our specialized shipping services are managed by a team of experts trained to handle the unique challenges of these substantial components. As a trusted shipping company, we understand reactors' critical role in industries such as energy, chemical processing, and more. Our commitment extends beyond transportation – we offer expert handling services that ensure your reactors are delivered safely and efficiently. Whether you are looking for a long-distance or short-distance haul, we have what it takes to make all your reactor shipping needs successful.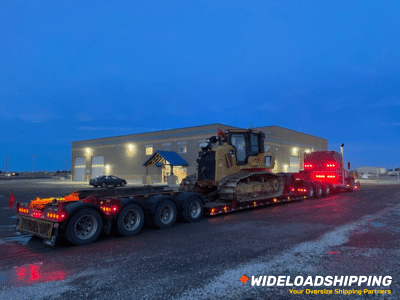 Professional Oversized Reactor Transport Services
In the past, we have handled numerous similar shipments. This has allowed us to fine-tune our services to match the industry standards and come up with solutions that match each client's needs. Our experienced team is equipped with the specialized skills required to navigate the complexities of oversized reactor transport. From meticulous packaging to secure loading and unloading, each step is executed precisely. Our experts possess the knowledge needed to handle different types of reactors, ensuring that they are transported safely, regardless of their size or specifications. With our commitment to excellence in oversized reactor shipping services, you can trust that your components will be in capable hands throughout the journey.
Get a Free Transport Quote Today!
Adherence to Oversized Reactors Shipping Standards
Our oversized reactor shipping services prioritize compliance with the stringent industry standards for transporting these critical components. We understand that reactors are sensitive and often fragile equipment that require specific handling to prevent damage during transit. By strictly adhering to established standards, we guarantee that your reactors are packaged, secured, and transported in a manner that preserves their integrity. We collaborate closely with industry regulatory bodies and manufacturers to ensure our processes align with the highest safety and quality standards. From customized packaging solutions to specialized securing techniques, we go above and beyond to ensure that each reactor shipment meets or exceeds industry requirements. Our commitment to stringent standards underscores our dedication to providing you with a safe and reliable shipping experience. Pressure vessels, for instance, require careful attention to their pressure rating and structural integrity, while chemical reactors demand compliance with chemical safety regulations. Whether the reactor is cylindrical, spherical, or any other shape, our team possesses the expertise to devise tailored transportation plans. This versatility allows us to handle a wide range of reactor types, delivering them safely to their intended destinations.
Transport Your Load On The Right Trailer With Us
Double Drop Deck Trailer
Max Dimensions: 29FT Length, 8.5FT Width, and 11.5FT Height
Max Weight: 45,000LBS

Step Deck Trailer
Max Dimensions: 53FT Length, 8.5FT Width, and 11.5FT Height
Max Weight: 48,000LBS

Removable Gooseneck Trailer (RGN)
Max Dimensions: 53FT Length, 8.5FT Width, and 11.6FT Height
Max Weight: 150,000LBS

Flatbed Trailer
Max Dimensions: 53FT Length, 8.5FT Width, and 8.5FT Height
Max Weight: 48,000LBS

Handling Different Types of Reactors
Oversized reactors come in various types, each with unique features and considerations. From pressure vessels to chemical reactors, we understand the differences in design and construction that influence their transportation requirements. Our team is well-versed in handling different reactor types, ensuring that each is transported according to its specifications and characteristics. With a team of experts backing your shipping operation, you can experience excellence in oversized reactor shipping services. Clients looking for efficient, reliable, and expert oversized reactor shipping services can look up to our company to provide viable solutions. Our team of trained professionals, adherence to industry standards, and expertise in handling different reactor types set us apart as industry leaders. Your reactors deserve the proper care, and we ensure they receive it from start to finish. Contact us today to discuss your oversized reactor shipping requirements. Allow us to customize a transportation plan that aligns with your specific needs, ensuring your valuable components' secure and timely delivery. Entrust us with the responsibility of transporting your oversized reactors and experiencing our services' excellence. Your components are crucial to your operations, and they need a shipping partner with professionalism set by the industry. Call us today to make any inquiries about your reactor shipping services. 
Your dedicated transport agent provides you with an all-inclusive quote tailored to fit your needs. We pull the permits, handle route surveys, find the best driver, and more.
Once everything is in place, a driver is dispatched to pick up your heavy equipment. Your equipment is safely loaded and secured before setting off.
Your dedicated agent is available throughout the entire journey to answer any questions you may have. Your oversize load is delivered safely and on time. Get your transport quote now!