Where to Find Local Trucking Services
Local trucking services are specialized transportation and carrier systems that move cargo from one point to another within a relatively small geographic location, with experienced companies like Wide Load Shipping offering the services. The process usually involves hauling services and small-scale logistics for medium and small organizations. Generally, it involves local equipment shipping requiring semi, light, heavy, hauling trucks, and trailers.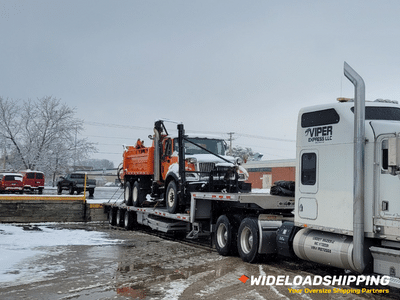 Professional Local Trucking Services Provider
Typically, local trucking services will involve moving cargo considered abnormal for ordinary trucks and vehicles. Therefore you will need skilled personnel, appropriate trucks, and services offered at Wide Load Shipping affordably. We designed our local equipment transport and shipping services to help clients meet the necessary and legal requirements, assessments, and other regulatory obligations. Our local trucking services adhere to the highest safety standards. When you inquire about or book our local transport services, you will find a team of trained experts ready to answer your questions and guide you in every step.
Get Your Shipping Estimate
Transport Your Load With The Best Company In The Industry
Demand for Local Trucking Services
We will help you acquire permits, route survey, and advise you on the most suitable truck for your goods. In addition, we have free resources available to help you understand our policies and other vital components of our local trucking services. A team of dedicated transport agents is available to guide you to the final step of the process. Our route survey team also ensures we pick the best and safest way to move your cargo. Regardless of your local trucking needs, we will provide quality trucks with an all-inclusive shipping quote and no hidden fees. When you work with Wide Load Shipping, every step is handled for you, from the initial dispatch to the final delivery, making our local trucking services reliable, efficient, and trusted by clients.
As the world advances deeper into technology and robust business modification, more local companies focus on providing and developing unique ways of meeting obligations. According to the American Trucking Association (ATA), the local trucking services industry has an estimated shortage of 80,000 drivers. This further shows the demand and importance of these services in businesses and institutional growth and expansion. Wide Load Shipping understands this growing demand. That's why we endeavor to provide the latest fleet of trucks, semi-trucks, and trailers for local equipment shipping and transport.
The demand for local trucking services is also high due to their attractive nature and affordability, safety, and timely delivery of your cargo. In this case, Wide Load Shipping offers our clients the most flexible local equipment transport choices. It also allows easy drop-offs and pick-ups with lower cargo restrictions due to weight and size constraints because the trucks are fitted with special equipment to facilitate transportation ease. The shipping costs are also lower since most trucks have unique techniques and strategies to reduce fuel consumption since the drivers understand the local terrain better and the best navigation routes.
Some of the Trailers Used For Local Trucking Services
While most local trucking services involve moving unique cargo and materials, the trailers used are determined based on the weight and dimensions. Common trailers we use include:
Flatbeds
RGNs
Step Decks
Lowboys
Hot Shots
Get Your Shipping Estimate
Transport Your Load With The Best Company In The Industry
Local Trucking Services Near You
Our local trucking services are available all year round to help you transport your load anywhere safely. We serve every city in the country. Call us for a free shipping quote! (877) 792-5056
Alabama; Alaska; Arizona; Arkansas; California; Colorado; Connecticut; Delaware; Florida; Georgia; Hawaii; Idaho; Illinois; Indiana; Iowa; Kansas; Kentucky; Louisiana; Maine; Maryland; Massachusetts; Michigan; Minnesota; Mississippi; Missouri; Montana; Nebraska; Nevada; New Hampshire; New Jersey; New Mexico; New York; North Carolina; North Dakota; Ohio; Oklahoma; Oregon; Pennsylvania; Rhode Island; South Carolina; South Dakota; Tennessee; Texas; Utah; Vermont; Virginia; Washington; West Virginia; Wisconsin; Wyoming
Frequently Asked Questions
Are local trucking companies less expensive than national companies?

 
Generally, local trucking companies are less expensive since they understand the geographical dimensions of a region compared to a national carrier that may be new to a location. However, this may vary in different states.
Can a local trucking company ship oversize loads?

 
Yes. Most local trucking companies can ship oversized loads if they have the permits, the right trucks, trained personnel, insurance, and certification. Still, it's vital to check with the state regulatory authorities for the requirements, qualifications, and limits.
How do I get a quote from a local trucking company?

 
To get a quote from a local trucking services provider like Wide Load Shipping, you must determine the cargo destination and then approach or contact the company for more details. Also, you can use a reliable freight broker to compare quotes.
Your dedicated transport agent provides you with an all-inclusive quote tailored to fit your needs. We pull the permits, handle route surveys, find the best driver, and more.
Once everything is in place, a driver is dispatched to pick up your heavy equipment. Your equipment is safely loaded and secured before setting off.
Your dedicated agent is available throughout the entire journey to answer any questions you may have. Your oversize load is delivered safely and on time. Get your transport quote now!