The Best Military Equipment Transport Company
When it comes to transporting military equipment, safety and security are paramount. Our shipping company specializes in providing top-tier logistics solutions for transporting military assets. With a proven track record of successful deliveries, we have earned the trust of military organizations and defense contractors worldwide. Our experienced team meticulously plans each shipment, considering the unique requirements of different equipment types. From armored vehicles that require special handling and secure anchoring to sensitive communication systems that demand climate-controlled environments, we ensure that every piece of military equipment is handled with care throughout its journey.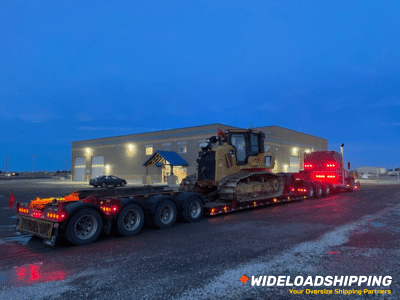 Let Us Be Your Military Equipment Transport Partner
All our previous military equipment shipping operations have been conducted within the strict guidelines stipulated by the shipping industry. We take care of all the legalities of the operation, including the paperwork, so our clients can focus on what matters to them.  To ensure the highest level of security, our transport vehicles are equipped with state-of-the-art tracking systems and communication devices, allowing us to monitor the progress of your shipment in real time. We also collaborate closely with security experts to implement stringent protocols that deter any unauthorized access to your valuable cargo. Military equipment shipping services come naturally to us thanks to our years of experience. 
Get a Free Transport Quote Today!
Advanced Handling Techniques Of Military Equipment
With a deep understanding of the intricacies involved in military equipment transportation, we employ advanced handling techniques to guarantee the integrity of your assets. Our skilled professionals are trained in loading, securing, and unloading a wide range of military equipment, adhering to strict protocols to prevent any damage during transit. From military trucks to aircraft components, our team is well-versed in handling different types of military equipment. We utilize specialized equipment such as custom crating, shock-absorbent materials, and climate-control technology to ensure that your equipment arrives in the same condition as when it left. Furthermore, our expert handlers are experienced in dealing with the challenges of various terrains and weather conditions. Whether it's navigating rugged terrains, extreme temperatures, or challenging weather patterns, we have the expertise and equipment to overcome any obstacle, ensuring your equipment reaches its destination safely and on schedule. We have a dedicated team working all year round to ensure military equipment is transported all year round. 
Transport Your Load On The Right Trailer With Us
Double Drop Deck Trailer
Max Dimensions: 29FT Length, 8.5FT Width, and 11.5FT Height
Max Weight: 45,000LBS

Step Deck Trailer
Max Dimensions: 53FT Length, 8.5FT Width, and 11.5FT Height
Max Weight: 48,000LBS

Removable Gooseneck Trailer (RGN)
Max Dimensions: 53FT Length, 8.5FT Width, and 11.6FT Height
Max Weight: 150,000LBS

Flatbed Trailer
Max Dimensions: 53FT Length, 8.5FT Width, and 8.5FT Height
Max Weight: 48,000LBS

Providing Military Equipment Shipping Services All Year
When you choose our military equipment shipping services, you're not just selecting a logistics provider – you're enlisting a dedicated partner in accomplishing your mission. We recognize the critical role that military equipment plays in defense and security operations. That's why we take our responsibility seriously, delivering excellence in every aspect of transportation. Our commitment extends beyond the transportation process. We work closely with our clients to tailor our military equipment shipping services to their needs. Whether coordinating complex multi-modal shipments, navigating customs and regulatory requirements for international transports, or providing detailed progress reports, we ensure that every detail is meticulously managed. Our team's expertise also encompasses risk assessment and mitigation. We conduct thorough analyses to identify potential vulnerabilities in the transportation process and implement measures to minimize risks. Our focus on continuous improvement means always refining our procedures to adapt to evolving security challenges and technological advancements. You can ascertain safe and reliable transportation of your military equipment with our unparalleled shipping services. Our team's expertise and commitment to precision will give you the peace of mind you deserve during every step of the journey. With our extensive experience and dedication to excellence, we have become a trusted partner for defense organizations seeking the most reliable logistics solutions. Contact us today to discuss your requirements, and let us help you confidently accomplish your mission. Your equipment deserves nothing less than the best – and that's exactly what we deliver. We take pride in our role as enablers of security and defense by providing unmatched military equipment shipping services. 
Transporting an Oshkosh 1070 Truck Tractor
Specs: 30L 8.5W 11.9H
Specs: 29,000Lbs
Origin: Fort Riley, KS
Destination: Massena, NY
Broker Name: Luke F.
Shipping an M35 Military Truck On a Flatbed
Specs: 22L 8.6W 9.6H
Weight: 16500Lbs
Origin: North Augusta, SC
Destination: Scott, AR
Broker Name: Luke F.
Transporting a Buffalo Military Unit On An RGN
Specs: 28.5L 9.25W 12H
Weight: 66,000Lbs
Origin: Davenport, IA
Destination: Little Falls , MN
Broker Name: Eddie A.
Your dedicated transport agent provides you with an all-inclusive quote tailored to fit your needs. We pull the permits, handle route surveys, find the best driver, and more.
Once everything is in place, a driver is dispatched to pick up your heavy equipment. Your equipment is safely loaded and secured before setting off.
Your dedicated agent is available throughout the entire journey to answer any questions you may have. Your oversize load is delivered safely and on time. Get your transport quote now!