Palletized Beverage Transport 101: Wide Load Shipping
Wide Load Shipping is a qualified palletized beverage shipping services provider. We understand palletized beverages are delicate, and we ensure they're handled with care to avoid leaking. Whether you're a manufacturer, distributor, or retailer, we will help you transport palletized beverages safely. Our palletized beverage shipping service can be booked every day of the year by calling, emailing, or filling out a form. It's important to ensure that you provide us with accurate information about your palletized beverages so that we can start working on the paperwork and identify a truck for transport and permits if needed. Call Wide Load Shipping today for a free quote.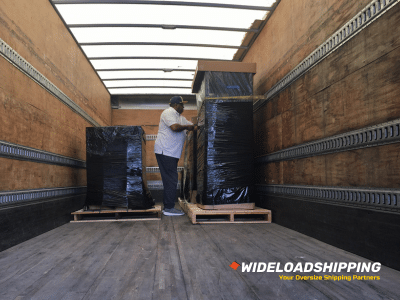 Get Your Shipping Estimate
Transport Your Load With The Best Company In The Industry
How Are Palletized Beverages Loaded on a Truck
Palletized beverages are loaded and unloaded through three methods. That can be through turned, side-by-side, or pinwheeled loading methods. All these methods are different, and depending on the amount of palletized beverages you're shipping, we're able to choose the most suitable one. We use forklifts and jacks to load and unload palletized beverages because they're efficient and fast. Our team is very careful through every step and takes good care of your palletized beverages until they're delivered safely. Below are examples of palletized beverages shipped by us. 
Bottled Water

Energy Drink

Soft Drinks

Fruit Juices

Alcoholic Beverages

Sport Drinks

Dairy Beverages

Coffee and Tea

Healthy Drinks and Smoothies

Ready to Drink Beverages

Concentrated or Syrup Beverages

Wellness Beverages
Fully Insured Palletized Beverage Shipping Services 
Wide Load Shipping guarantees the safety of your palletized goods, and we go the extra mile to ensure they're fully insured against danger. We process an insurance cover for your palletized beverages and add your name. With that copy, you can confirm that your load is insured for transport by calling the insurer, and you can use it to claim compensation if your load isn't delivered safely. When your load is in transit, we do everything in our power to ensure it's not damaged. Drinks are delicate, and they're susceptible to damage. Therefore, we always ensure they're protected against damage by insuring them. When our team arrives at the pick-up location, they inspect the palletized beverages and fill out a bill of lading form to document their condition before they're delivered. That form is important; we use it at the delivery location to confirm if the load is delivered in a similar condition. If the palletized beverages don't arrive safely, we're able to note the difference and compensate you for any damage.
Get Your Shipping Estimate
Transport Your Load With The Best Company In The Industry
Affordable and Safe Palletized Beverage Transport Services 
The cost of shipping palletized beverages isn't fixed. It depends on the amount of product, weight, mode of transport, distance, and type. The larger and heavier the palletized beverages, the more specialized the truck needed. Palletized beverages can be shipped through less than truckload (LTL) or full than truckload (FTL) method. We choose the best method to load your palletized beverages to ensure the space is fully utilized.  Our drivers are experienced and will deliver your palletized beverages anywhere you need them safely. Call Wide Load Shipping today for palletized beverage transport services you can depend on.
Your dedicated transport agent provides you with an all-inclusive quote tailored to fit your needs. We pull the permits, handle route surveys, find the best driver, and more.
Once everything is in place, a driver is dispatched to pick up your heavy equipment. Your equipment is safely loaded and secured before setting off.
Your dedicated agent is available throughout the entire journey to answer any questions you may have. Your oversize load is delivered safely and on time. Get your transport quote now!