Palletized Bricks Transport 101: Wide Load Shipping
Wide Load Shipping is a palletized goods shipping company, and among what we transport are the different types of bricks. Whether you're a homeowner or a contractor, we will help you ship your palletized bricks safely. We have modern state-of-the-art trailers to help us haul palletized bricks of any number, size, and weight. We have a team of qualified specialists who will take your shipping request, choose a suitable trailer for transport, acquire transport documents, and coordinate the whole shipping process until they're delivered safely. Call us for a quote.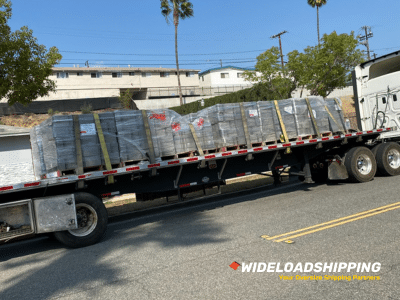 Get Your Shipping Estimate
Transport Your Load With The Best Company In The Industry
How Many Bricks Are in a Pallet?
The number of bricks on a pallet depends on the method of installation and the size of the pallet. However, if standard common bricks are used, there are generally about 534 bricks in a pallet. It's important to note that the larger and heavier the bricks are, the less they will be in a pellet.
Types of Bricks to Transport with Us
Bricks come in different sizes, weights, and materials. Below are the common types of bricks you can ship with Wide Load Shipping. 
Sun Dried Bricks

Burnt Bricks

Concrete Bricks

Lime Bricks

Engineering Bricks

Fly Ash Bricks
How to Load and Unload Palletized Bricks
Since palletized bricks can't be loaded on a trailer through driving, we use forklifts, jacks, and other methods to ensure they're loaded on a trailer safely. With the use of equipment, the loading and unloading process is fast, which saves time. If there's space left in between pallets, they're likely to move while in transit which will damage the bricks. To avoid that, we use lashings to make them rigid while in transit. Some of the methods used to load and unload  palletized bricks are;
Side-by-side loading

Turned loading

Pinwheeled loading
Fully Insured and Timely Palletized Bricks Transport Services
The cost of shipping palletized bricks depends on their number, size, and weight. The heavier the bricks, the more you will pay because they will require a more specialized trailer to move and bigger cranes to load and unload. We have a qualified rigger crew at the pick-up and drop-off locations which will ensure your palletized bricks are handled with care to avoid damage. Wide Load Shipping will fully insure your palletized bricks and make you a copy of our insurance bearing your name. You can use that copy to confirm if your palletized bricks are insured for transport and to claim compensation if not delivered safely. Palletized bricks are delicate; one wrong move could mean a big loss. Therefore, it's goods to be safe than sorry.
Get Your Shipping Estimate
Transport Your Load With The Best Company In The Industry
Affordable and Safe Palletized Brick Shipping Services 
When our team arrives at the pick-up location, they start by inspecting the palletized bricks and filling out a billing of lading form. We later use that form to confirm if the palletized bricks are delivered safely or not. Our drivers are qualified and will ensure your palletized bricks get to a destination of your choice safely and on time. Regardless of the location of a construction site, we will deliver them. We accept a wide array of payment methods, and we don't charge a booking fee. Call Wide Load Shipping today for timely and affordable palletized brick shipping services.
Your dedicated transport agent provides you with an all-inclusive quote tailored to fit your needs. We pull the permits, handle route surveys, find the best driver, and more.
Once everything is in place, a driver is dispatched to pick up your heavy equipment. Your equipment is safely loaded and secured before setting off.
Your dedicated agent is available throughout the entire journey to answer any questions you may have. Your oversize load is delivered safely and on time. Get your transport quote now!