Nacelle Shipping Services You Can Rely On
With a several-year track record, our company has become synonymous with excellence in nacelle transportation. Our reputation is built on a foundation of successfully delivering nacelles to some of the most remote and challenging locations worldwide. Our team's commitment to precision and safety is unwavering, and we have consistently exceeded client expectations, even in the most demanding conditions. We operate a state-of-the-art fleet of specialized transport vehicles and equipment designed to handle nacelles' unique dimensions and weight requirements. From the initial planning stages to the final delivery, our experts meticulously coordinate every aspect of the transportation process, ensuring the utmost care and efficiency.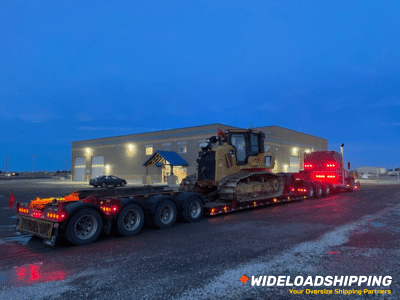 Importance of Wind Turbine Nacelles
Wind turbine nacelles are the beating heart of any wind energy system, functioning as the central hub for crucial components such as gearboxes, generators, and sophisticated control systems. These intricate structures are the linchpin in harnessing the wind's power to generate clean, renewable electricity. Given their critical role and sensitive nature, transporting nacelles is a high-stakes endeavor that requires unwavering attention to detail. At our company, we recognize the pivotal role of nacelles in the success of wind energy projects. We understand that the safe and secure transportation of these components is paramount to the overall success of a renewable energy venture. This understanding drives our commitment to provide customized solutions that prioritize the safety and integrity of your cargo throughout the entire journey. Our team's expertise extends beyond transportation logistics; it encompasses a comprehensive understanding of the unique challenges nacelles poses. From the moment these vital components leave the manufacturing facility to their final installation at the wind farm, we meticulously plan and execute each step of the transportation process. Our goal is to ensure that your nacelles arrive at their destination in pristine condition, ready to perform at their peak efficiency.
Get a Free Transport Quote Today!
Transport Nacelles with the Professionals
We maintain a cutting-edge fleet of specialized vehicles, cranes, and handling systems designed exclusively for nacelle transportation, ensuring secure and efficient handling regardless of size or weight. Our highly trained professionals possess extensive experience in the art of nacelle shipping. They're equipped with the knowledge and skills to overcome challenges and ensure your cargo's safe delivery. We recognize that every wind energy project is unique. Our team collaborates closely with you to devise customized shipping solutions for factors like route planning, site-specific needs, and environmental considerations. We employ eco-friendly practices and adhere to strict environmental regulations, minimizing our carbon footprint and promoting a greener future for wind energy projects. Our dedication to sustainability benefits our clients and aligns with the global push for cleaner, renewable energy sources.
Transport Your Load On The Right Trailer With Us
Double Drop Deck Trailer
Max Dimensions: 29FT Length, 8.5FT Width, and 11.5FT Height
Max Weight: 45,000LBS

Step Deck Trailer
Max Dimensions: 53FT Length, 8.5FT Width, and 11.5FT Height
Max Weight: 48,000LBS

Removable Gooseneck Trailer (RGN)
Max Dimensions: 53FT Length, 8.5FT Width, and 11.6FT Height
Max Weight: 150,000LBS

Flatbed Trailer
Max Dimensions: 53FT Length, 8.5FT Width, and 8.5FT Height
Max Weight: 48,000LBS

Elevate Your Wind Energy Project with Our Services
We embrace environmental responsibility as a core value. We understand the importance of aligning with the renewable energy industry's goals for sustainability. Our transportation methods are designed to minimize our carbon footprint, promoting a greener future for all. Choose us as your wind turbine nacelle transport partner and experience the difference expertise, commitment to excellence, and environmental responsibility can make. Contact us today to discuss your project's unique needs and embark on a journey toward a brighter, cleaner tomorrow. Together, we'll harness the power of the wind to drive a sustainable future.
Your dedicated transport agent provides you with an all-inclusive quote tailored to fit your needs. We pull the permits, handle route surveys, find the best driver, and more.
Once everything is in place, a driver is dispatched to pick up your heavy equipment. Your equipment is safely loaded and secured before setting off.
Your dedicated agent is available throughout the entire journey to answer any questions you may have. Your oversize load is delivered safely and on time. Get your transport quote now!