Boat shipping basics.
Boat shipping basics 101.
Boat shipping can be a stressful thing for the owner or a boat if he/she needs it relocated. There are so many different things to prepare for and remember. It can be fairly easy if you get yourself organized. No matter if you're shipping a powerboat, sailboat, or commercial fishing boat it's going to take some dedication. Boats that exceed state-regulated shipping dimensions will require approval from each state they are shipped through. In some cases, if the boat is big enough, it may require pilot cars or even a route survey depending on just how big it is. Many powerboats that have a fly-bridge have height problems and require additional work in order to transport as they have to be routed around bridges and utility instructions. These types of shipments require high pole pilot cars to escort the truck transporting the shipment.
If your boat happens to have a fly-bridge you may want to check to see if it can be removed before attempting to get a shipping quote. Boat shipping can be much cheaper when the vessel does not exceed 15′ when loaded on a trailer. Usually, the maximum height rule of thumb for boat shipping before you get into any kind of financial trouble (thousands of more dollars) is about 15 feet in height maximum once loaded on the trailer. One has to consider that most trailers are about 3 feet off the ground with a double drop trailer being about 2 feet off of the ground. However, a double drop trailer has to be specially fitted in order to accompany a boat hull. Be sure to check the oversize shipping regulations in the states your boat will be transported through so you know exactly what you're dealing with as far as shipping permits and pricing is concerned. It's always a good idea to do your research first so you know just exactly what you're getting into. Another good idea is to make sure that you have the exact dimensions for your particular boat. Make sure that any modifications you have done have not changed the original manufacturer's dimensions. You can check to see if your boat specs are listed at Boats.com which has a pretty extensive database on boat sizes off of the assembly line. In many cases, boat owners will do custom work to their vessels like adding a dive platform on the transom or adding on a custom bowsprit as well as modifications to the fly-bridge. If this is your case and you have made any kind of modifications to your vessel's hull you will need to physically measure your boat for its actual dimensions.
Prepare your boat for any situation.
You're also going to want to make sure you are prepared to deal with any unexpected situations that may come up when shipping your boat. Make sure that the boatyard you intend on using has properly scheduled the boat lift crane for you well in advance before your boat shipper arrives. Any delays in loading could lead to you having to pay detention time for delaying your truck. This can be very expensive. Accidentally creating a delay can be terribly bad for everyone involved. In most cases, over-dimensional shipments (like boats) can only be transported during daylight hours and if your shipper is on a schedule (and most likely they are) you can find yourself paying hefty detention penalties.
Make sure that you have extra lumber for blocking and a good saw at your loading site. You'll also want a complete toolset, extra rope, baling wire, and even a roll of duct tape. Each loading situation is a little different depending on the configuration of your boat. Try to think about related materials you may (or may not) need and have them readily available in advance – always bring extra is the rule in this game. There is always something that needs more attention with boats which you already know. Boat shipping is the same thing.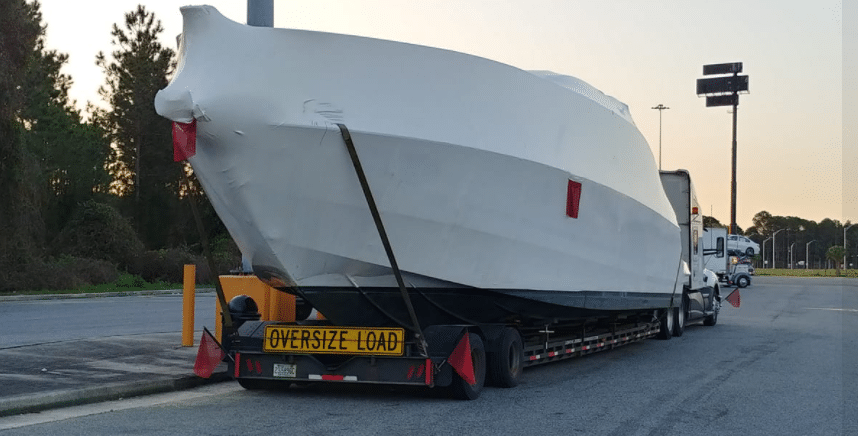 Spending the extra time with preparation will ensure that you are being smart about what you are committed to doing and can also save you time and money. If you would like more information on preparing your vessel for transport you can read our guide on how to prepare for boat shipping. This will give you the basic necessary information so you are prepared and successful at shipping your vessel. Boat shipping basics are a good thing to learn. Especially if you are the owner of a boat and plan on moving it anytime in the near future.
One thing to always keep in mind is boat shipping is just the same in the water as it is out of the water. Either way much preparation is required in order to ensure your boat safely makes it to its intended destination. Before shipping your boat ensure it is prepared properly for the trip.

"…we recently found your site. I am pleased with the response and found the right boat shipper for us. I originally wanted to pull it with our own truck but quickly realized shipping it with an experience boat shipper was in our best interest. Just wanted to say thank you".
-Stevan and Liz
See also:
Boat shipping insurance.
Regulations for boat shipping.
Trailer types.