Learn to prepare your boat for shipping.
Just like preparing for a long boat trip, learning to ship your boat and preparing it is the same thing. Especially for a private party. It takes a lot of effort. You'll need to learn to prepare for shipping your boat as it takes time, planning, and preparation. Getting prepared for your vessel to journey on land can be just as demanding as preparing for a journey on the water. No matter what kind of boat you need to ship a powerboat, a sailboat, personal watercraft, yacht, commercial fishing boat it is important that you are fully prepared.
Staying one step ahead.
One other thing to consider when performing this daunting task is being one step ahead of the game. Hopefully, with the information that we give you here, you can do just that. One of the first things to do is to locate the right carrier for your job. You can do that right here on WideloadShipping. Then determine what your loaded height will be so you can make sure there are no bridge or utility obstructions in the intended route you plan to take. Most boatyards are strategically located but you need to make absolutely 100% sure before scheduling a travel lift boat crane. The next thing to do since you are a private party is to take pictures of your vessel above the waterline. So if it's currently in the water now is a good time to do that. Make sure you take detailed pictures that are fairly close up from all angles and a few of each side just far away enough to include everything.
Boat shipping safety while on the road.
The next thing you want to do is to remove all of your personal items from the boat. Also, remove any and all flammables from the vessel. This includes cans of propane extra or portable fuel tanks and any other types of flammable materials and liquids on board. Make sure everything on board the vessel is secured well. This is just our preliminary list before we head to the boatyard for the boat lift crane. So let's re-cap since so many people (especially private parties) have a habit of not reading instructions – especially and specifically webpages.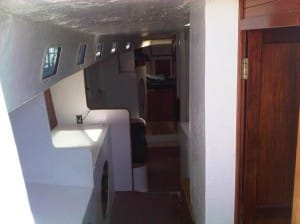 Preliminary preparation list:
Locate the right boat shipping company for your project here on our site.
Locate a boatyard with a travel lift that is suitable for your transport route making sure there are no obstructions from bridges or utilities along the way.
Take close-up pictures of your vessel above the water line from all angles. Take a few pictures that include the entire boat from all sides. Make sure the time/date setting on your camera is turned on.
Remove all personal items from the boat. Everything. Food, clothes, linens, personal electronics, and everything not specifically boat-related.
Remove all flammables: propane, Sterno cans, emergency flares, extra fuel – everything.
This will get you as far as the boatyard and out of the water. Most boats that are planning to be shipped over the road will need much more work so continue to read on.
Important things to do in preparation.
At this point, it is possible that your boat has a growth on the bottom of it. If so you are going to want to remove any instance of growth from the hull of the boat. Also, make sure you remove any growth from any thru-hull valves and fittings as well. Almost every state and province in North America has inspection stations for invasive species and will comb over the hull of your vessel with a fine-tooth comb. If you fail one of these inspections whether it is your fault or not you will be liable to pay your boat transport company detention and layover fees. For a company that uses a specialized trailer like a boat hauler, you're looking at thousands of dollars a day. Make sure the boat hull is clean. Also now that the boat is out of the water you will again need to take pictures of it from every angle. Take both close-up photos and a few from each angle that show the entire boat out of the water. If you're a private individual these can be used later if needed in case of insurance reasons or putting something that you took off back in the exact place it was before you removed it. Now remove all cables from all batteries. In many states, you are required by law to remove all of the fuel from your tanks. Make certain of the laws in the states you will be traveling through. Also, remove all water from any holding tanks. Properly secure any hatches or entrances on your boat. Remove items secured to safety rails like bbq grills, safety buoys, anchors from bow and stern, etc. Also, remove anything that is loose like cushions as well as portable electronics located in your cockpit.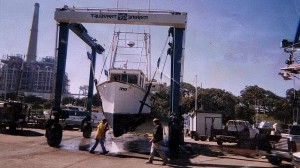 Primary preparation list:
Remove any and all growth from the bottom of the boat and thru-hull valves to keep from breaking any laws and avoiding detention time being billed to you by boat transporter.
Take close-up photos of your boat from all angles. Also, take distance pictures to include everything from all angles. Make sure the date/time option is turned on in-camera.
Unplug all battery terminals.
Remove all fuel from tanks as required by law. Drain all water tanks.
Secure all hatches.
Remove any bbq grills, safety harnesses, man overboard buoys, anchors (bow & stern) from safety rails.
Remove and items that are loose in the cockpit of your vessel.
Preparation for extrusions and height reduction.
There are many ways to reduce your overall shipping dimensions. The easiest of them is to remove things that are simple like radars, antennas, some bowsprits, biminis, and dive boards. Then there are harder things like and entire fly-bridges, out-riggers, and masts. You have to weigh it out against your budget as the bigger it is, the more expensive it is to ship with some size ranges in the very critical area within inches of thousands of dollars.
A quick note on boat masts: Sailboat masts are fairly easy to deal with as long as they are under 65′ in length. The most common size of boat shipping trailers is 48′ to 53′ in length. Of course, there are other trailers like a double drop stretch that can go much longer. As long as the mast will not hang off off the front of the trailer over 3′ and the rear 10′ (in many states 15′) you should be legal with a routinely issued oversize trucking permit. If your mast is longer than this your transport company will have to negotiate with the state oversize trucking permit office(s) you plan on traveling in.
It is important to know where your limitations are in relation to shipping over the road. First, you need a reference tool for oversize, over-weight, and height restrictions for each state and province in North America. This will tell you what maximums you are working with on your route.
Here are a few monetary breakdowns in the boat shipping industry in relationship to size.
Length: Length isn't really much of an issue in shipping over-dimensional items over the road. Once your overall shipment (length of entire truck and trailer, plus any overhang) length is over 110′ you can incur additional fees for a pilot car. With most boat shipments you already have one due to your beam so no problem here.
Width:  Width on boat shipments is what starts to cost you. Anything over 102″ (8′ 6″) in width requires a permit to move on a public road no matter where you are located. If you are under 12′ there is a good possibility that you will not need a pilot car. If you are over 12′ in width you will more than likely be required by law to have one rear pilot car vehicle at all times. If over 14′ in width you will more than likely be required by law to have one front escort and one rear pilot car at all times.
Height: Height can be tricky. Routing. If you can remain under 14′ in height loaded on the trailer this is what you want to do. You can travel almost any route you want. At 15′ in height, routing is more restricted but in most areas, you will not be required by law to have a high pole escort but you need to check to make absolutely sure. Once you hit 16′ in height you are going to be required in most states to have a high pole escort vehicle. At 17′ tall and over you are getting into territory that requires a mandatory route survey in most states. With a route survey, you have to send a company with a height pole attached to the front of their vehicle set 6″ over your reported height to drive your entire route before even applying for a permit. If the pole hits anywhere on the proposed route the vehicle must re-route the intended route and find one that does not hit the height pole.
Money: Just to give you an idea of what you are looking at as a private party. If your boat needs to be transported 1,000 miles but it is 17′ loaded. The rule of thumb in our industry is that you tack on an additional 30% of the mileage. By the time the high pole truck comes back with a route and the state makes adjustments this is a safe rule. So you are looking at 1300 miles in reality and billing. A pilot car runs between $1.35 and $1.50 a mile plus per diem for a room. Usually $75 per night. Some charge for food some don't. If you need one for a short run for part of a day $350 is a good number. A high pole escort runs from $1.65 a mile to $2.00 with per diem and about the same fee if you only need it for a portion of a day.
Extremes: If you need to ship a boat that is in excess of 19′ loaded you can do it. Even 23′ doable and we've done much higher. You will have utility obstructions. These are relatively easy to deal with but require working closely with the state for special permitting and local police along the route as police escorts will be required. You will also need what is called a bucket truck. Most shipments with excessive heights will need two bucket trucks which will keep the shipment moving faster as one bucket truck will work in front of the other. In the long run, having 2 bucket trucks reduces the overall cost of the shipment. The bucket truck industry is an interesting one as far as rates go.  We've dealt with "bucket companies" that we've worked hard all day and had them charge us $900 a day for each truck, then been in another location and had them work moderately and charge us $4,000 for each truck. Getting a quote for a shipment that is over 19′ to 23′ in height takes a little time. The boat shipping companies you will be working with will include all of this stuff in their quote to you so you won't have to worry about it. We are providing this information to you as a financial reference point. In case you ever need to you can find plenty of pilot cars here. You should also know it is not a realistic option for you to buy an oversize load sign and become your own pilot car for your boat shipment. You could have done it 20 years ago but those days are over unless you want to buy a huge inventory of equipment, attend classes, and become certified by the state.
Making sure your vessel is properly insured.
Another thing that needs to be addressed here is insurance – especially since you are a private party. You want to make sure that while your boat is in transit that is properly insured. Let's face it most boats these days are very expensive which is why you want to make sure your asset is protected. Most boats shipping companies have high cargo insurance but it's important for you to know if that amount is going to cover your loss in the unfortunate event that damages occurred. The minimum amount of cargo insurance a trucking company can have by federal law is $100,000. Most of the boat transport companies usually have around $1 million in insurance with quite a few of them having you 3 million and up to 5 million of cargo insurance. Before selecting a trucking company to handle your shipment you want to find out exactly how much cargo insurance they carry. If you want to work with a specific boat transport company but they do not have enough cargo insurance you can always purchase the additional insurance amount from their insurance company. We found in the past that purchasing additional insurance amounts have been reasonably affordable. As an example $20 per additional $100,000 of cargo insurance purchased. If the boat shipping company that you have decided to hire has the appropriate amount of insurance then it's just a matter of you getting properly listed on the shipper's insurance certificate as a certificate holder or additionally insured which is pretty easy. You can learn more about boat transport insurance from our pages that can teach you a few neat insurance tricks as well.
Interested in shipping your own boat?
If you plan on shipping your own vessel then you may want to have a look at these pages to have an idea of what you are looking at to obtain the permits.
Please share your experience with us. Some recent kind notes:

"Thank you so very much for your enlightening article. We thought we knew exactly what we needed to do to get our boat ready to ship but never thought about invasive species being able to be transported from one body of water to another. Lake Tahoe has been everything but destroyed from this and we would never want to be a contributor to something so bad. Thank you very much for the information".
-Darlene B.
"…in the past and we again not only saved money but got the job done right. Bill at A1HaulaBoat took extra good care of our little baby and got it there right on time. We love your service and will ship with Bill again which we kind of feel like we are cutting you out of the loop but wanted to express our appreciation for your service. We promise to share your great service with friends and colleagues ".
-Don T.