Specialized Agricultural Equipment Shipping Services
We are experts in agricultural equipment shipping services. Regarding efficient and reliable transportation of agricultural equipment, our agricultural equipment shipping services are your trusted solution. Our shipping company specializes in providing tailored logistics solutions to meet the unique demands of businesses and individuals requiring the safe and timely delivery of agricultural machinery. From tractors and harvesters to irrigation systems and implements, we have the expertise to handle various agricultural equipment. Our experienced team understands agricultural equipment's critical role in modern farming operations.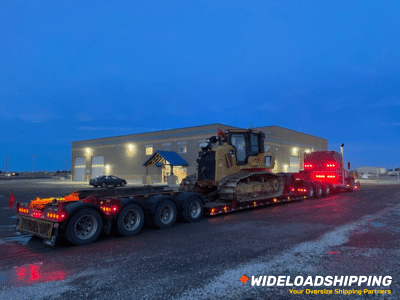 Secure Loading and Unloading of Agricultural Equipment
We meticulously plan every shipment, considering the size, weight, and special handling requirements of each piece of equipment. Whether you're moving machinery locally or across borders, our team's extensive knowledge ensures that your agricultural equipment is transported securely and arrives at its destination in optimal condition. All our equipment shipping services are brought to you by a highly skilled team of experts. Our agricultural equipment shipping services are built upon a foundation of secure and efficient handling techniques. We recognize that agricultural equipment often has unique features that demand specialized care. Our skilled handlers are trained in loading, securing, and unloading various types of equipment, ensuring that each piece is safeguarded during transit. From ensuring proper weight distribution to utilizing custom crating and protective measures, we take every step to prevent damage and ensure a smooth journey for your equipment. Efficiency is paramount in our approach. Our transport vehicles are equipped with advanced tracking systems, enabling real-time monitoring of your shipment's progress.  
Get a Free Transport Quote Today!
Flexible Agricultural Equipment Hauling Services
Our safety measures are top-tier, providing you with confidence that your valuable equipment is safe with us. Whether you're a farmer, a dealership, or an agricultural manufacturer, our dedicated team is committed to delivering your equipment securely and on time. Our shipping company is your ultimate resource when you require reliable and specialized agricultural equipment shipping services. With our years of experience and unwavering commitment to excellence, we are your trusted partner in delivering agricultural equipment to its destination. Our focus on secure handling, tailored solutions, and exceptional customer service distinguishes us as leaders in agricultural logistics. Our years of experience make agricultural equipment shipping services flexible and consistent. 
Transport Your Load On The Right Trailer With Us
Double Drop Deck Trailer
Max Dimensions: 29FT Length, 8.5FT Width, and 11.5FT Height
Max Weight: 45,000LBS

Step Deck Trailer
Max Dimensions: 53FT Length, 8.5FT Width, and 11.5FT Height
Max Weight: 48,000LBS

Removable Gooseneck Trailer (RGN)
Max Dimensions: 53FT Length, 8.5FT Width, and 11.6FT Height
Max Weight: 150,000LBS

Flatbed Trailer
Max Dimensions: 53FT Length, 8.5FT Width, and 8.5FT Height
Max Weight: 48,000LBS

Your Partner in Agricultural Equipment Shipping Services
Choosing our agricultural equipment shipping services means choosing a partner dedicated to the success of your farming operations. We understand the significance of your agricultural equipment in sustaining productivity and profitability. Beyond transportation, we provide personalized service that includes expert advice on packaging, documentation, and regulatory compliance. Our commitment is to ensure a seamless transportation experience, leaving you free to focus on the growth of your agricultural enterprise. From the moment you entrust your equipment to us, we take responsibility for its care. Our team manages all aspects of the logistics process, from efficient loading and secure transit to timely unloading. We inform you about your shipment's progress, providing the visibility you need to track its journey and anticipate its arrival. Clients can look up to us to provide consistent agricultural shipping equipment services all year round. Our dedication to excellence ensures that your agricultural equipment reaches its destination ready to serve your farming needs. Contact us today to discuss your agricultural equipment transport needs. With a dedication to excellence, we have a customer-centric approach that allows all types of clients to get tailor-made solutions for their shipping needs. Allow us to understand your unique requirements and tailor a transportation plan that guarantees your equipment's safe and timely delivery. Trust us with the responsibility of transporting your agricultural equipment and experience our services' excellence. Your farming equipment deserves nothing less than the best.
Shipping a 2021 John Deere 9470R Tractor
Specs: 30L 16W 12.6H
Weight: 55,000Lbs
Origin: La belle, MO
Destination: Rexford, KS
Broker Name: Brian G.
John Deere 9970 Cotton Picker Transport
Specs: 29L 12W 12.6H
Weight: 34,000Lbs
Origin: Chipley, FL
Destination: Fyffe, AL
Broker Name: Sam D.
Transporting a 2014 John Deere S680 Combine
Specs: 36L 13.8W 13H
Weight: 36,000Lbs
Origin: Clay Center, KS
Destination: Houston, TX
Broker Name: Jackson W.
Your dedicated transport agent provides you with an all-inclusive quote tailored to fit your needs. We pull the permits, handle route surveys, find the best driver, and more.
Once everything is in place, a driver is dispatched to pick up your heavy equipment. Your equipment is safely loaded and secured before setting off.
Your dedicated agent is available throughout the entire journey to answer any questions you may have. Your oversize load is delivered safely and on time. Get your transport quote now!