Pool Shipping Services You Can Rely On
Wide Load Shipping is the best pool transport company in the United States, Canada, and Mexico. We have over a decade of experience and modern state of the art trailers to help us transport pools of all sizes and dimensions. We understand that the pools are delicate, and we do everything we can to know they're protected against damage.  Our pool shipping services are available all year round. You can email, fill out the form, or call to make a booking, and one of our specialists will start working on your shipping request immediately. They will identify the best trailer for transport based on the weight and dimensions of your pool and ensure the right documents accompany it.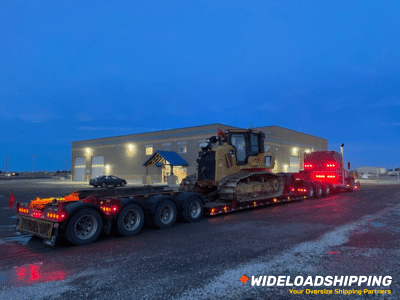 Affordable and Safe Pool Transport Services Across the 50 States, Canada, and Mexico
Whether you're a homeowner or a contractor, we will help you move your pool safely. Below are some of the pools we transport. The cost of transporting pools depends on the weight and dimensions, distance, and season among other factors. The larger the pool, the more you will pay because it will require more resources and planning to move. Since the pools can't be driven on and off a trailer, we use cranes to load and unload them. We have a team of rigger crew present at both the pick-up and drop-off locations. They oversee the entire process and ensure the pool is safe at all times. Whether the pool is new or old, we will handle it with high professionalism. If it exceeds the legal weight or dimensions, we acquire the necessary permits to ensure that we don't get fined by the Department of Transportation. A bill of lading form is filled out at the pick-up location to document the state of the pool before transport. It helps us confirm if it was delivered safely at the delivery location. When shipping pools across different states, we thoroughly research to ensure all the rules are followed to avoid delays. Below are some of the pools we transport. 
Get a Free Transport Quote Today!
Transport Your Load On The Right Trailer With Us
Double Drop Deck Trailer
Max Dimensions: 29FT Length, 8.5FT Width, and 11.5FT Height
Max Weight: 45,000LBS

Step Deck Trailer
Max Dimensions: 53FT Length, 8.5FT Width, and 11.5FT Height
Max Weight: 48,000LBS

Removable Gooseneck Trailer (RGN)
Max Dimensions: 53FT Length, 8.5FT Width, and 11.6FT Height
Max Weight: 150,000LBS

Flatbed Trailer
Max Dimensions: 53FT Length, 8.5FT Width, and 8.5FT Height
Max Weight: 48,000LBS

Fully Insured and Timely Pool Shipping Services
When you ship single or multiple pools with us, be assured that they will be fully insured to protect them from damage. The best part about working with Wide Load Shipping is that we not only make you a holder of our insurance cover but also issue you a copy with your name. With that, you can contact the insurance company to confirm your pool is insured before dispatch. Then, if anything were to happen to it, you could contact the insurance company for compensation. In addition, our drivers know the fastest and most convenient routes to ensure your pool is delivered. Finally, we offer expedited pool shipping services at an extra cost for urgent transports. Call Wide Load Shipping today to safely transport a single pool or more and get a free estimate. 
Transporting a Fiberglass Pool
Specs: 27.2L 12.4W 5.3H
Weight: 2,000lbs
Origin: Newnan, GA
Destination: Knoxville, TN
Broker Name: Eric H.
Fiberglass Pool Shipping Services
Specs: 32.7L 13W 5H
Origin: 4,000LBS
Origin: Friant, CA
Destination: Tucson, AZ
Broker Name: Eric H.
Hauling a Fiberglass Pool
Broker Name: William T.
Your dedicated transport agent provides you with an all-inclusive quote tailored to fit your needs. We pull the permits, handle route surveys, find the best driver, and more.
Once everything is in place, a driver is dispatched to pick up your heavy equipment. Your equipment is safely loaded and secured before setting off.
Your dedicated agent is available throughout the entire journey to answer any questions you may have. Your oversize load is delivered safely and on time. Get your transport quote now!