Transport Your Palletized Goods in the Right Trailer with Us
Wide Load Shipping is the best-palletized goods shipping company in the country. Whether you want to transport palletized food, beverage, limestone, bricks, or other palletized products. We know how to handle all these products and more, ensuring they're delivered safely and on time. Palletized goods such as food and beverages are delicate and require to be handled with total care because a slight mistake could lead to a big loss. Luckily, our team is trained and experienced to ensure the safety of each commodity is guaranteed. You can contact Wide Load Shipping at any time to get started on shipping your palletized goods.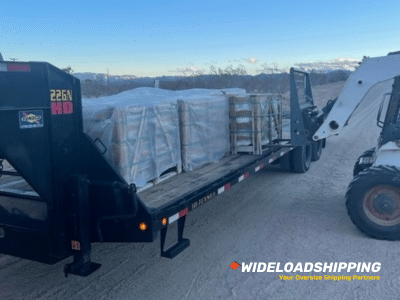 Get Your Shipping Estimate
Transport Your Load With The Best Company In The Industry
Cost-Efficient Palletized Goods Shipping Services
The cost of shipping palletized goods depends on the weight, size, distance, and season among other factors. For example, the heavier and larger the goods are, the more you will pay because they will need a larger and more specialized truck. Therefore, less than the truckload (LTL) or full truckload transport (FTL) method can be used depending on the amount of palletized goods you're shipping. For comparison, less than a truckload is cost-efficient because you only pay for the space occupied by your palletized goods, while for a full truckload, you have to pay for the entire truck. 
Common Goods Shipped Using Pallets 
How Are Palletized Goods Loaded and Unloaded
Palletized goods are loaded using three main methods. Side-by-side loading, turned loading, and pinwheeled loading methods. We mainly use forklifts to load and unload palletized goods because it's more efficient and fast. However, other methods, such as jacks and hands, can be used. When loading palletized goods, we use the most suitable method to ensure the space available is fully maximized. Before we load palletized goods on a trailer, they're inspected, and a bill of lading form is filled out. That form is important and is later used at the drop-off location to confirm if the goods are delivered safely. If an accident were to happen while the goods are in transit, that is the form that helps us assess the level of damage so that you're compensated. Our palletized goods shipping services are available all year round, and you can make a booking by calling or filling out the form on our website.
Get Your Shipping Estimate
Transport Your Load With The Best Company In The Industry
Safe and Timely Palletized Goods Transportation Services 
Wide Load Shipping is committed to ensuring your goods are handled with utmost professionalism. Our drivers know the best routes to ensure your palletized goods are delivered safely and on time. In addition, when transporting palletized goods that require to be put under specific temperatures, we use the right trucks to avoid going bad. When you book our palletized goods transport services, expect to work with a qualified specialist who will handle your shipping requirements until your palletized goods are delivered safely. They identify the best truck for your goods, process paperwork, and coordinate the entire move until the goods are delivered. To transport palletized goods anywhere in the country, Canada, or Mexico, call us today for a free estimate.
Your dedicated transport agent provides you with an all-inclusive quote tailored to fit your needs. We pull the permits, handle route surveys, find the best driver, and more.
Once everything is in place, a driver is dispatched to pick up your heavy equipment. Your equipment is safely loaded and secured before setting off.
Your dedicated agent is available throughout the entire journey to answer any questions you may have. Your oversize load is delivered safely and on time. Get your transport quote now!