Learn About Tank Transport With Us
Tank shipping requires careful planning and coordination of systems and components that usually involve oversize equipment trucks, trailers, and professional drivers. Heavy tank transport varies significantly depending on specific circumstances, mainly the tank model or design, applicable regulations, shipping distance, and weight. Consulting with a specialized shipping expert or tank trucking company like Wide Load Shipping is highly recommended for a successful and compliant transport process.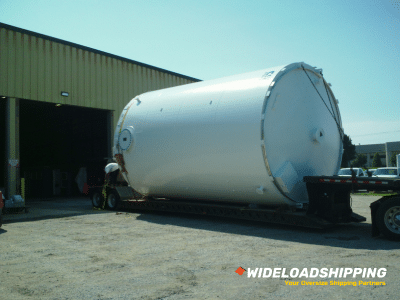 Get Your Shipping Estimate
Transport Your Load With The Best Company In The Industry
Tank Transport Services at Wide Load Shipping
The tank shipping market is categorized into low, medium, and heavy-duty transport. Our experts at Wide Load Shipping have the skills, equipment, and capacity to ship under these three classifications all oversize tanks and other heavy freight loads anywhere in the country and internationally. To meet client demands and needs, a reputable tank trucking company must update its shipping services regularly to meet growing and diversification trends. Wide Load Shipping experts meet such requests and possess years of experience providing oversized shipping, making them experts. To facilitate and satisfy our customer's needs, the company has the expertise, a remarkable track record, insurance coverage, licensing and certifications, and reliable customer reviews. Wide Load Shipping mainly specializes in oversized equipment shipping, meeting all the effective and safe transportation requirements. When providing tank shipping services, our team discusses specific needs and conditions with the client making them understand the logistics of heavy tank trucking.
Our tank trucking company has become a one-stop shop for guides, resources, and definitions for oversize equipment transport. Under our mission to provide all you need for oversized load shipping, the tank trucking services include Route surveys, transport agents, free resources, oversized load regulations, and an all-inclusive shipping quote. Wide Load shipping offers route surveys to ensure our client's cargo is transported safely. We also have dedicated agents who guide customers through every step of the tank shipping process, including getting reliable pilot cars for better route navigation. The team provides a vast library of guides and resources to help our customers understand oversize equipment transport. Our tank trucking services include an all-inclusive shipping quote showing everything you need, from pilot cars and loading assistance to other necessary transport amenities, with no hidden charges. With over 15 years of experience Wide Load Shipping provide nothing short of excellent tank shipping services to all customers.
Common Trailers Used for Tank Transport
Several trailers and trucks for oversized shipping are available at Wide Load Shipping. However, picking the most suitable for your tank trucking project depends on the dimensions, usually the length, height, width, and weight. Wide Load Shipping experts help you determine the best for you, mainly from the standard flatbed, lowboy, RGN, tanker trailer, or step deck trailers. Our shipping trailers are designed to transport an oversize tank anywhere in the country. Most trailers our tank trucking company use consist of a flat, open platform without a roof or sides. This makes it easy to move oversize tanks with irregular designs or dimensions. The step deck trailer is mainly suitable for transporting taller tanks or those with additional equipment attached, especially at the top, because they allow more vertical clearance. The lowboy trailer has a low deck that makes loading and unloading easy and usually include a detachable neck at the front, commonly called a gooseneck.
The tanker trailer is also designed to haul oversized tanks, especially those containing gases and liquids. But we also consider the varying rules and regulations across various states when providing the best truck for your project. In such considerations, our tank trucking company ensures that all necessary shipping permits and certificates for the trailers and your cargo accompany your oversized load. We recommend that clients discuss with our experts the specific requirements for the oversized shipping project to ensure they can effectively and thoroughly handle all the logistics of transporting your cargo. It helps you get all the vital legal documents needed across every state your load will travel. To obtain accurate and updated data on such requirements, Wide Load Shipping has reliable tank shipping agents that will readily provide such information. Our website also provides all the key details on how to get the most suitable trailer for your cargo.
While oversize shipping can be complex due to size, transportation requirements, and weight, specialized tank transport services from our reliable team will safely handle the process to the final destination observing all legal requirements like permits and certifications.
Get Your Shipping Estimate
Transport Your Load With The Best Company In The Industry
Permits and Regulations for Legal and Reliable Tank Trucking Services
A reputable tank trucking company like Wide Load Shipping must ensure all clients' projects comply with specific permits and regulations for the legal and safe transportation of oversized loads. However, these permits and legal regulations vary by state. Transportation of oversize tanks usually exceeds most states' maximum allowable weights and dimensions for regular vehicles. When a cargo exceeds these limits, oversize permits are required to transport them. Since the permits vary by jurisdiction Wide Load Shipping through its trusted agents submits detailed information about the load to relevant authorities for approval. The permits also facilitate route surveys because some states have designated roads or corridors for oversized loads.
The routes are set to avoid low bridges, narrow roads, obstacles, or possible hazards to other road users. The regulations and permits mainly include oversize permits and safety equipment and markings, hazardous materials regulations, specialized hauling equipment licenses, pilot vehicles, and insurance covers for damages. Clients need to discuss upfront with the tank trucking company for correct permits and regulations. They may also contact the relevant local, state, or provincial transportation departments and agencies for updated information on permits and regulations.
Working with experienced logistic professionals at Wide Load Shipping will help you comply with and navigate the legal complexities of oversize tank shipping permits and regulations.
Types of Tanks We Transport
Concrete Tanks

Fiberglass Tanks

Hardened Plastic Tanks

Galvanized steel Tanks

Fuel storage Tanks

Oil storage Tanks

Resin Storage Tanks

Chemical Storage Tanks

Aluminum Tanks
Frequently Asked Questions (FAQ)
How much does it cost to transport a tank?
The cost of transporting a tank depends on and is determined by weight, dimensions, and distance to be covered. Still, it costs several dollars per mile.
How do you move a heavy tank?
Moving a heavy tank requires specialized equipment, trucks or trailers, permits, and licensed drivers from a reputable tank trucking company like Wide Load Shipping.
Your dedicated transport agent provides you with an all-inclusive quote tailored to fit your needs. We pull the permits, handle route surveys, find the best driver, and more.
Once everything is in place, a driver is dispatched to pick up your heavy equipment. Your equipment is safely loaded and secured before setting off.
Your dedicated agent is available throughout the entire journey to answer any questions you may have. Your oversize load is delivered safely and on time. Get your transport quote now!