Car shipping quotes. Considerations before shipping a vehicle.
Automobile shipping is a necessity. From new vehicles delivered to dealerships or individuals requiring their vehicle be shipped. Especially if you're moving or traveling long distances. While long-distance travel in your car or truck may seem like fun to many (especially when your younger or camping) there are circumstances where distance and time factors don't support a multi-day driving journey.
When out-sourcing for car shipping companies there are a few things you should be aware of. One of the highest priorities is insurance. It's not wise to assume you are automatically covered by the carrier's contingency cargo insurance policy. The operative word being "contingency". Here's the quick workaround (anytime you ship anything):
Ask the individual or company you intend on hiring for a copy of their insurance certificate prior to accepting their offer. If they seem confused this is a red flag. All logistics professionals know what a "package" is. Motor Carrier Authority Certificate, insurance certificate, and W-9. It's standard lingo.
Once you get the certificate call the insurance company number listed on it. Tell them "yes I would like to get listed as a certificate holder" and have your e-mail ready. They do this all day long every day and it's free of charge. Once you've got that you're in good shape.
Most automobile shipping companies are good at what they do and here to help you but keep in mind a profit drives the logistics chain. While some preparation should be done before shipping your car you may prefer to quickly get a car shipping quote. If you'd like to learn about some of the preparation required before you ship your car continue on.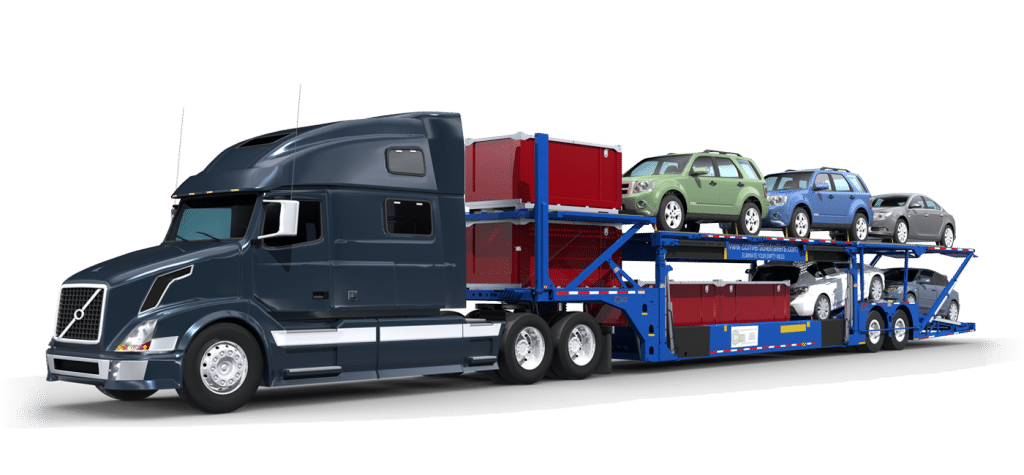 What exactly does automobile shipping entail?
Personally, I find this an amusing question. Cars ship themselves right? Wrong. It requires a driver (with the exception of some of the newer models). Some drivers have no desire to have their hands on the wheel 8+ hours a day for multiple days in a row. Enter auto shippers. Clearly, from the images depicted above, you can see the basic commercial trailer design. It has ramps in order to load/unload vehicles and is maximized for legal weights, heights and lengths in order to ship as many vehicles as possible at a time.
How long does auto shipping take?
For shipments within the continental United States car shipments typically take a maximum of 10 days from the time of pick up until delivery. Keep in mind this is more than a generous amount of time. If your shipment takes more than 10 days to deliver warning flags should go up. Most commercial automobile shipping companies are able to deliver your vehicle within a few days.
Commercial transport.
Commercial auto shippers have the federal authority to transport cars to any destination on the globe. The most commonly used car hauling companies ship over the road and are registered in the FMCSA database. By searching this database maintained by the US Federal government you can learn about the carrier's history you're considering working with. All you need is a company name (and state they're based out of), their DOT or Motor Carrier (MC) number, and viola!
Commercial auto shippers do much more than simply ship cars for individuals and dealerships. They ship for events, the military, the department of defense, FEMA, and the list goes on. While commercial auto shipping isn't always the absolute cheapest way to ship your car it is absolutely the most reliable. From pickup to delivery and all of the required paperwork (insurance included) in between commercial is the preferred method.
Independent/local shippers
Most of these guys do a great job. Especially when shipping short distances. Local car haulers are much more cost-effective at transporting vehicles short-range than commercial carriers. If you're shipping your car in-state we suggest hiring a local company. An additional thing to consider however is insurance. Above we cover the 2 steps to getting named on any carrier's (local or global) insurance policy as a certificate holder. This is how the logistics pros cover their six.
Loading/unloading your vehicle.
Whether you decide to ship your car with a local carrier or a commercial carrier one of the detailed questions you want to ask is who is responsible for loading and unloading the vehicle. Enquire about ramps and driveability (if that's an issue) to ensure you avoid any potential problems.  It's better to know exactly what is required of you for both loading and unloading your vehicle.
Paperwork required to ship your vehicle.
Typically a copy of the vehicle's registration or title is sufficient. In some cases, this may not be required but you'd be wise to count on needing it.
Internation automobile shipping.
Shipping your vehicle internationally isn't really that big of a deal. If the ports are operating well your automobile will be delivered to the desired destination and available for pick up relatively quickly. Here are a few International car shipping cost examples:
Global automobile shipping cost examples:
USA West Coast origins;
USA West Coast to Hawaii – 5 days. Appx. $1200 USD.
USA West Coast to Guangzhou, CN – 10 days. Appx. $2100 USD.
USA West Coast to Puerto Vallarta, MX – 5-7 days. Appx. $1000 USD.
USA West Coast to Valparaiso, CL 12-14 days. Appx $2800 USD.
USA West Coast to Anchorage, AK 8 days. Appx. $1500 USD.
USA West Coast Melbourne, AU 30 days appx $3000 USD.
USA East Coast Departures:
USA East Coat to Cape Town, SA 18 days Appx. $2800 USD.
USA East Coast to Tangier, MR 11 days Appx. $1800 USD.
USA East Coast to Bristol, UK 9 days Appx $1500 USD.
USA East Coast to Marsielle, FR. 8-10 days appx. 1600 USD.
USA East Coast to Gio Tauro, IT 10-16 days appx $1800 USD.
USA East Coast to Mersin. TR 18 days appx $2600 USD.
The exact port of origin will cause the rate to vary within a few hundred dollars. However, if you compare the distances and cost in this example your estimates will be very close as of March 2021.
Liquids and flamables.
Liquids. If it's not in a reservoir or tank installed by the manufacture remove it. This even includes that extra bottle of water you had behind your seat. Remove it.
Flammable liquids. In most cases, you are permitted to have fuel in a manufacturer's installed fuel tank. You are not permitted to have a gas can in the vehicle empty or full. Reservoirs that hold combustibles must be removed. This includes additional tanks, fuel cells, nitrous oxide bottles, alcohol, oil, lubricants, and even bottles of wiper fluid (many contain alcohol). A detail-oriented car shipping company may even inspect your gas cap. If it is not the one installed by the manufacture of the vehicle it may be inspected further and for good reason (see below).
Flammables. Emergency roadside flares are strongly paid attention to by car shipping company drivers. They are permitted but should be secured and clearly visible. Any first-aid or things like hand warmers should be removed prior to shipping as well. Especially when shipping internationally.
Gas caps and how sensitive they are. A smog test picks detects a faulty gas cap immediately:
"If your gas cap is defective, the light will come on the second time the car self-checks its vapor-recovery system. Quite often, this happens because someone didn't tighten his gas cap until it was fully seated and clicked. Fortunately, the new generation of quick-on gas caps have all but eliminated this problem. But they can still break or get lost." (credit; Chicago Tribune).
Modified vehicles, trucks.
If you have a vehicle that has been modified in any way you will want to make certain you have the dimensions and weights before seeking to obtain a transportation quote. Vehicle modifications include lifts (and even lowered vehicles) which affect the height or low clearance of the overall shipment. Weight is just as important. If your vehicle has been structurally modified you may wish to go to a truck stop and drive your car or truck onto their scale so you have the exact weight of it. This way you can ensure your driver is able to calculate his overall weight and you are not responsible for creating time delays or financial losses that will occur from loading a truck unlawfully (see; regulations). Any modified vehicle can be shipped following regulations safely and properly.
Shipping items inside of your vehicle.
Typically putting items inside of your vehicle to maximize shipping costs is prohibited. It's also a big "no-no". When any automotive transport company gives a quote to ship a vehicle they are strongly considering the weight of the year, make, and model amongst other things like the height of the vehicle. A standard commercial car hauler trailer is limited on the amount of combined weight it is allowed to transport by law. Hence the signs you see on the side of the highways "80,000 max GVW". If any vehicle or combination is in excess of this weight it will be permanently stopped, ticketed, and more than likely fined. So commercial car hauler drivers know very well to inspect any trunks, compartments, and the inside of the vehicle for additional items. If they find anything they will want it immediately removed before loading it onto their trailer. Your driver has their hands full already. Consider each vehicle holds 20 gallons of fuel. Each gallon of fuel weighs 6 lbs and a total of 8 vehicles will need to be shipped. With other fluids in consideration, there's about a 1,000 lb difference. This is enough to delay your vehicle delivery as well as created expensive problems for your carrier. So always be sure your car or truck is completely empty. It would be just as wise to have less than 1/4 tank of fuel when preparing for shipping.
Note: When shipping internationally we strongly suggest customers at minimum vacuum their vehicles if not clean the windows and interior as well. You would be quite surprised how many vehicles alert customs to potential problems due to odor, residue, and small debris in floorboards. Be wise. deep clean your vehicle even if it looks clean when shipping internationally.
See also:
Boat shipping quotes.
Heavy equipment shipping.
Car shipping quotes. Considerations before shipping a vehicle.
March 13, 2021