The Go To Industrial Equipment Transport Company
We take pride in our adherence to manufacturer specifications when transporting industrial equipment. As a reliable industrial equipment shipping service provider, we ensure all shipping operations align with the stipulated industry and manufacturer guidelines. Our specialized shipping services prioritize meticulous adherence to manufacturer specifications. As a trusted shipping company, we understand industrial equipment's critical role in various industries, from manufacturing to construction. Our commitment extends beyond transportation – we ensure that every detail outlined by the manufacturer is followed to the letter, guaranteeing the safe delivery of your essential components.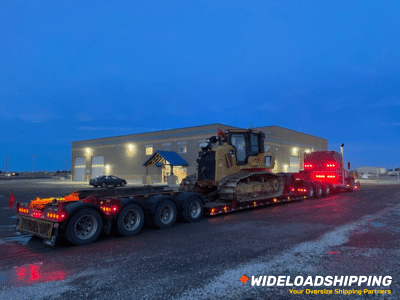 No Matter The Size or Weight, We Will Move It!
Over the years, we have built a reputation of being the best industrial equipment shipping services provider by catering to specific customer needs. Our customer-centric approach has allowed us to become the trusted industrial equipment shipping services provider to clients across the country. Our experienced team collaborates closely with manufacturers to gather detailed guidelines for packaging, securing, and transporting industrial equipment. We recognize that different equipment demands unique handling methods, and we tailor our approach to meet the precise requirements of each item. By adhering to manufacturer specifications, we assure you that your industrial equipment will be handled and transported in a manner that preserves its integrity. Our industrial equipment shipping services encompass a wide array of components that are crucial to different industries. From heavy machinery to delicate electronic systems, we possess the expertise to transport a diverse range of industrial equipment with precision. Whether you require the transport of CNC machines, conveyor systems, or printing presses, our team is equipped to handle it all. Our commitment to excellence in industrial equipment shipping services ensures that each type of equipment is approached with the same level of care. Our versatile fleet and specialized handling techniques allow us to accommodate the unique requirements of different components. By choosing us, you benefit from a partner that offers tailor-made solutions for transporting various types of industrial equipment, no matter their size or complexity. 
Get a Free Transport Quote Today!
Shipping a Diverse Range of Industrial Equipment Services
The safety of your industrial equipment is our top priority, which is why our shipping services are fortified with comprehensive safety policies. We understand that unexpected incidents can occur during transit, so we offer insurance coverage to give you peace of mind. Our safety protocols encompass everything from packaging and securing to loading and unloading, ensuring that your industrial equipment is safeguarded at every stage of transportation. In the rare event of unforeseen circumstances, our insurance coverage serves as an added layer of protection for your investment. We believe in transparency and accountability, and our insurance policy is designed to address any potential damages that may occur during transit. With our commitment to safety policies and comprehensive insurance, you can trust that your industrial equipment is in the best possible hands. Industrial equipment shipping services come naturally to our team of experts thanks to their experience.  We are the epitome of industrial equipment shipping services.
Transport All Industrial Equipment With Us
Working over the years in different seasons and solving different logistics challenges have created a team of project managers and drivers who always look forward to the next challenge. Below are the common types of industrial equipment we transport:
Transport Your Load On The Right Trailer With Us
Double Drop Deck Trailer
Max Dimensions: 29FT Length, 8.5FT Width, and 11.5FT Height
Max Weight: 45,000LBS

Step Deck Trailer
Max Dimensions: 53FT Length, 8.5FT Width, and 11.5FT Height
Max Weight: 48,000LBS

Removable Gooseneck Trailer (RGN)
Max Dimensions: 53FT Length, 8.5FT Width, and 11.6FT Height
Max Weight: 150,000LBS

Flatbed Trailer
Max Dimensions: 53FT Length, 8.5FT Width, and 8.5FT Height
Max Weight: 48,000LBS

Experience Excellence in Industrial Equipment Shipping Services
Our shipping company is your trusted choice when you require efficient, reliable, and expert industrial equipment shipping services. Our adherence to manufacturer specifications, a diverse range of services, and robust safety policies set us apart as industry leaders. Your industrial equipment deserves the best care; we ensure they receive it from start to finish. Reach out to us today to discuss your industrial equipment shipping requirements. Allow us to customize a transportation plan that aligns with your specific needs, ensuring your valuable components' secure and timely delivery. Entrust us with the responsibility of transporting your industrial equipment and experience the excellence that our services provide. Your equipment is pivotal to your operations, and they deserve the finest shipping solutions available. Call us today, and our industrial equipment shipping services will be at your disposal.
Your dedicated transport agent provides you with an all-inclusive quote tailored to fit your needs. We pull the permits, handle route surveys, find the best driver, and more.
Once everything is in place, a driver is dispatched to pick up your heavy equipment. Your equipment is safely loaded and secured before setting off.
Your dedicated agent is available throughout the entire journey to answer any questions you may have. Your oversize load is delivered safely and on time. Get your transport quote now!